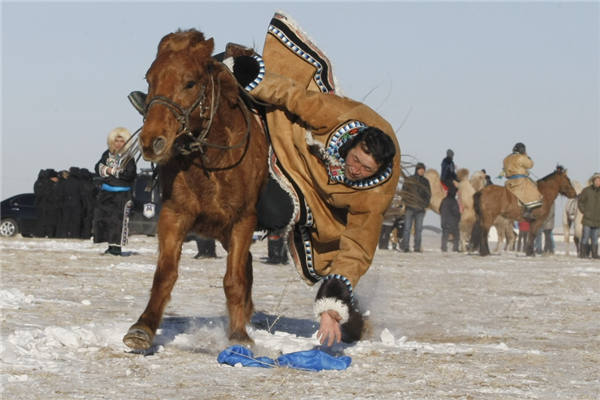 Winter nadam in Xilin Gol League, the Inner Mongolia autonomous region, features a variety of folk sports like horse racing, wrestling and rodeos.
The prefecture's Chen Barag Banner will host daily folk activities like horse races, folk music performances and bonfire galas with locals for about 100 yuan per guest from Dec 24 to Feb 28.
Manzhouli city's China, Russia and Mongolia International Ice and Snow Festival will run from late Dec 22 until March.
Ice swimmers dive into rivers during the event.
The frontier settlement that nudges Russia's border will stage the China-Russia-Mongolia Beauty Pageant from Dec 22-24, featuring contestants from the three neighboring countries.
About 6.5 million travelers generated 4.6 billion yuan in total revenue at the festivals last year, the city's tourism administration reports.
Roughly 540,000 Russians popped over the border, accounting for 26 percent of visits from the country to China.
Daily direct flights from Beijing bring crowds from the capital.
Those flights will likely become more important this year, since the autonomous region is also working with Beijing-based China Youth Travel Agency to introduce seven new winter-tourism itineraries.
Their theme is nadam-the Mongolian word for entertainment.
The routes will include Arxan's hot springs, Ulanhot's folk customs and prairies, Hexigten's geology and Alxa's deserts.