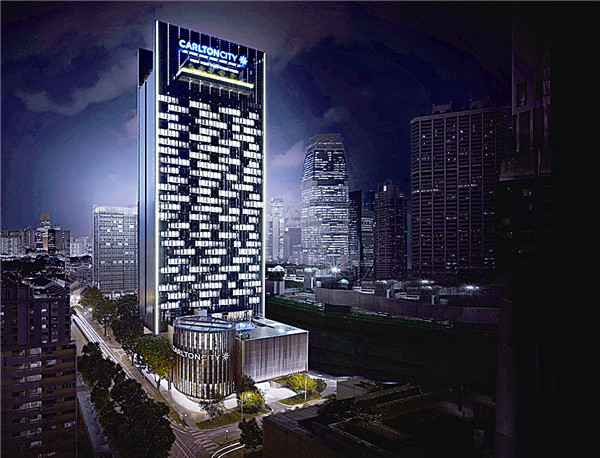 Carlton City suits up.[Photo provided to Shanghai Star]
New Kid on the Block: Carlton City Hotel
Location, location, location. Carlton City is right in the heart of one of the oldest electoral districts in Singapore. This brand new hotel is sandwiched between the financial skyscrapers of Shenton Way, and the heartland residential blocks of Tanjong Pagar.
Its older sibling, the Carlton Hotel, is another example of good location, sited right besides the iconic Raffles Hotel, opposite the equally iconic Raffles City shopping mall.
The younger Carlton City is obviously a business hotel, and its lounge is artfully called The Trading Floor. But it is also a comfortable hotel for those wanting a practical environment with familiar facilities. Bus stops and train stations are an easy walk away and you will not have any difficulty hailing a cab here.
Rooms are showcases of modern comfort and you get treated to Singapore's spectacular skyline every time you draw the curtains. It is a new hotel, but service is practiced and warm and aimed to please business travelers and their families.
Carlton City Hotel
1, Gopeng Street, Tanjong Pagar
Proximity to the Shenton Way and Chinatown, easy access to buses, trains and taxis.
Walk across the road to a typical Singapore HDB Housing estate with food court and neighborhood supermarket, designer cake shops and even nail art salo's.
Average cost: Hotel booking sites offer promotions from 1,000 yuan upwards. Breakfast not included.