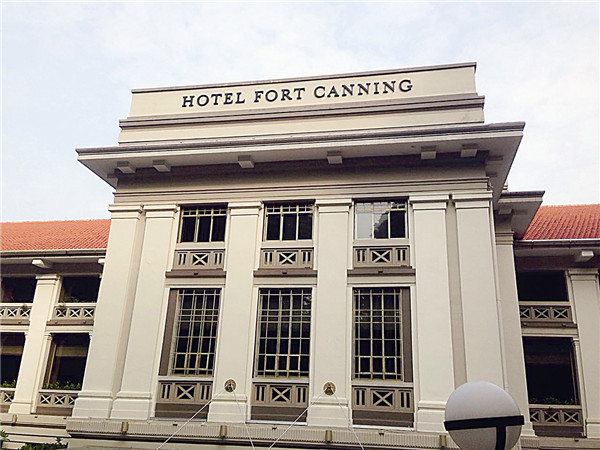 Fort Canning Hotel is on royal grounds. [Photo provided to Shanghai Star]
History and color: Fort Canning Hotel
This hotel has less than a 100 rooms, and if you want to stay here, plan well in advance. The reason for its popularity is the location on Fort Canning, the place where Singapore's history has its genesis.
Fort Canning, the Royal Hill or Forbidden Hill, was the enclave of the original Temasek sultans who ruled the island long before the British East India Company started to eye Singapore as a probable base for its operations in the Spice Islands.
It was here that they had their palaces, and it is also here that several archeological sites have been uncovered. Some of the sultans were buried here.
Sir Stamford Raffles, the founder of modern Singapore, also lived on the Hill after he successfully pensioned off the old sultans and the remains of his residence can still be seen.
Apart from that, Fort Canning is now a park for lovers of culture, and just plain lovers. Its winding paths and ancient trees shelter courting couples, and there are periodic events at the Park such as the annual Ballet Under the Stars performances.
The Hotel is part of the Worldhotels network and very popular with European visitors wanting to experience modern comforts against a backdrop of exotic history. It is a quiet green haven amidst the bustle of the city and you can easily walk down to the city's central business district or the Orchard Road shopping malls.
Fort Canning Hotel
11. Canning Walk, Off Penang Road.
Proximity to CBD, Raffles City Shopping Center.
Average cost: 650 yuan upwards on hotel booking sites, breakfast for two included.