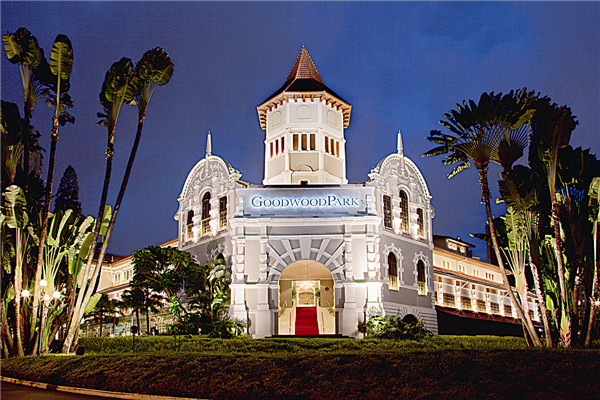 Goodwood Park Hotel.[Photo provided to Shanghai Star]
Grand dame of Orchard Road: Goodwood Park Hotel
This hotel sits on a little hill overlooking the top of Orchard and Scotts Road, right in the heart of Singapore's most prosperous shopping district. Yet, it is a throwback to an era where hospitality was all about elegance and sophistication.
This is another hospitality institution in Singapore, especially known for its quiet accessibility. This was where the first generation tycoons and former British administrators congregated for afternoon tea. Its Chinese restaurant Minjiang was among the first to offer the fiery Sichuan cuisine, long before the mala hotpots became a byword for spicy cuisine.
The Goodwood Park also claims a reputation as the first five-star hotel to create western pastries out of the king of fruits, starting with a durian mousse cake to durian puff pastries to ice cream made of mostly durian pulp.
The Goodwood Park offers good value for money, even if you have to pay a premium for the rooms. Pool view rooms are spectacular, but if you get assigned a garden view room, watch out for the squirrels and their morning antics just outside your window tree.
Goodwood Park Hotel is now part of the Worldhotels network.
Goodwood Park Hotel
22, Scotts Road Singapore.
Very near the street food center of Newton Circus, and short walking distance to the Orchard Road Malls.
Average cost: 1,500 yuan upwards. Some Chinese hotel booking sites offer breakfast for two, but most do not.