Netting a larger rate of interest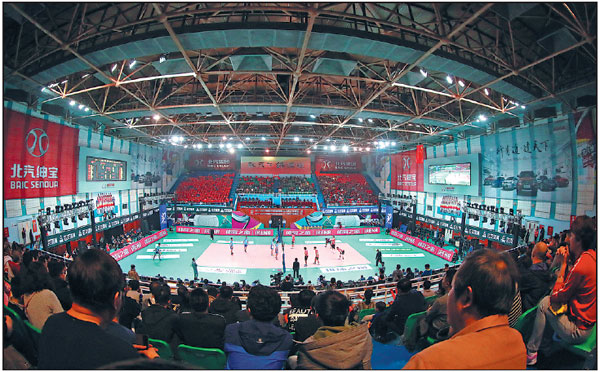 Guangcai Gymnasium in Beijing offers a great example of the China Volleyball League's effort to upgrade facilities and develop marketing strategies to attract more fans. [Photo provided to China Daily] 
Compared to the success of the women's national volleyball team in major international tournaments, China's men's squad lags far behind.
The disparity is also apparent in the domestic leagues, with fans and sponsors flocking to support the women while the men battle in relative obscurity.
That situation might be on the verge of changing. 
The China Volleyball League opened another season on Sunday, heralded by singers, bands and cheerleaders at Beijing Guangcai Gymnasium, aiming to attract a new generation of fans to the men's game.
Thousands turned out to witness Beijing's 3-0 victory over Sichuan, with millions more following the action online.
"This is the first season of the upgraded China Volleyball League," said Eric Gao, CEO of iRENA, the circuit's official business operation partner. "We are providing both athletes and audiences with a better experience. The rights of sponsors will also be better guaranteed."
Guangcai Gymnasium offers a great example of the league's upgrade. The venue is now capable of providing a "theatre style" experience for spectators after a major renovation of the seating arrangement and tunnels for the players.
New equipment, including an advanced LED screen and sound meters, was also added - along with merchandise shops and a club exhibition area.
"The visual effect is much better than before," said fan Xie Wei, who enjoyed Sunday's action. "The crowd makes for an exciting atmosphere because of the new sound meters. I also enjoyed the temperature in the venue. It's warm. Most importantly, I can use wifi in the venue now. It's very convenient. "
More space has also been devoted to broadcasting platforms. Apart from the traditional TV channels, the season-opener was streamed live on many online platforms, including Sina Sports, Alisports and NetEase Sports.
"I love the game but I don't have time to come to the venue, " said Li Xiaolei, a volleyball fan who works on weekends. "But I watched the live broadcast of Beijing versus Sichuan online using my smart phone. Without TV, I can still enjoy the game. It's very convenient to choose between different channels."
Gao said more about 40 CVL games, including the all-star game and playoff finals, will be "theme days" this season, featuring special events offered by title sponsors.
"We are expecting that, with the development of the CVL, the level of the men's game will increase to the point that China's men's team will compete at the 2020 Tokyo Olympics. We also believe the upgraded CVL will provide fans with better experience to enjoy the unique charm of volleyball.
"Our goal is to create the best volleyball league in the world and start a new era for the CVL."
Contact the writer at shifutian@chinadaily.com.cn
Most Popular
Highlights
What's Hot