Women's spikers to maximize marketing potential
Olympic heroes preparing for marketing boost
Despite a medal-laden couple of decades for the sport, including Olympic glory in Rio last year, China's women's volleyball stars still lag behind their basketball and soccer counterparts in terms of earnings and exposure.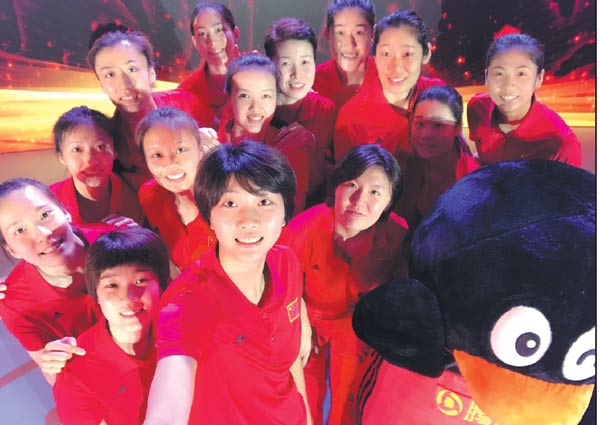 China's women's volleyball team poses with the mascot of leading portal company Tencent at last week's signing ceremony in Nanjing to announce a new partnership. [Provided to chinadaily.com.cn] 
It's something of a conundrum, especially considering the team's huge fanbase. A whopping 930 million viewers watched it claim gold in Rio against Serbia on leading Chinese online portal Tencent alone, while last week at the FIVB Grand Prix Finals in Nanjing raucous fans packed a sold-out arena to roar on their national heroes.
Aware that the sport is not maximizing its marketing potential, China's Volleyball Administrative Center has signed a groundbreaking new deal with Tencent Sports to boost the team's profile.
"It's the first time an internet company has taken over the marketing development of a national team," said Wang Yongzhi, general manager of Tencent Sports Agent Center.
"We will dig deeper to realize the value of women's volleyball."
Traditionally, competitions have been promoted with straightforward news and highlights packages. However, future efforts will also focus on developing more professional player agency and developing their personal intellectual properties (IPs).
"The young generation of players is perfect for social media. They tend to be photogenic and some of the star players' IPs have huge value," Wang said.
Former head coach Lang Ping, who masterminded the victory in Rio, agrees.
"Compared with players of my generation, these players boast strong personalities and more energy," she said.
"I hope they continue to work hard and play a big role in spreading the positive spirit in our society."
China's Volleyball Administrative Center, the sport's state-run governing body, has largely ignored marketing development in the past.
However, it's now fully on board with the makeover, as Li Quanqiang, chief of the center, explained: "It's a kind of a reform of Chinese volleyball. We held lengthy discussions before reaching a deal to collaborate with Tencent.
"I also reported to the State General Administration of Sport that cooperation with an internet company is an essential part of the reform process to make our organization more market oriented."
Chinese soccer has also undergone a series of reforms in recent years while in basketball, former NBA star Yao Ming was appointed president of Chinese Basketball Association and has taken charge of the sport's development.
"From the five world and Olympic titles in the 1980s to the golds at the 2004 Athens Games and last year's Rio Olympics, the women's volleyball spirit has passed through a number of generations," added Li.
"Women's volleyball has a strong fanbase across different ages. Now more young people love and follow women's volleyball.
"The co-operation with Tencent, with its multi-channel coverage, will expose the sport to more people and enhance volleyball's value.
"I'm sure more people will get involved in the sport and keep women's volleyball competitive in the world."
Li also dismissed concerns commercial activities could detract from performances in training and competition.
"We have a rule in the deal that training and competition come first. It's true that players will be invited to more commercial activities, but only in their free time.
"We can't afford a situation where players make more money but their performances worsen on the court. We're looking for a win-win situation."
chenxiangfeng@chinadaily.com.cn