China's synchronized swimming sisters return to claim silver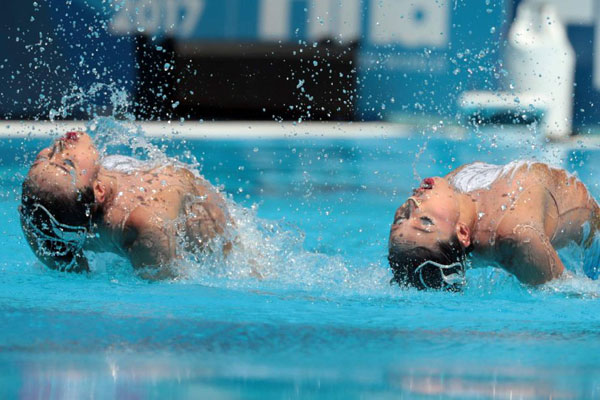 Chinese synchronized swimming sister duo of Jiang Wenwen and Jiang Tingting competes during the duet free at the 17th FINA World Championships inBudapest, Hungary, on July 20, 2017. [Photo/cctv.com]
Budapest, Hungary - Chinese synchronized swimming sister duo of Jiang Wenwen and Jiang Tingting made a wonderful comeback journey at the 17th FINA World Championships as they won their second silver medal in the duet free on Thursday.
Coming back from retirement due to marriage and giving birth, they finished runner-up with a score of 95.3000. Russia's Alexandra Patskevich and Svetlana Kolesnichenko claimed the gold medal with 97.0000 points. Anna Voloshyna and Yelyzaveta Yakhno of Ukraine ranked third at 93.2667.
"We cannot separate ourselves from water, so when we come back, we think that persistence is quite necessary for us," said Jiang Wenwen, adding that the duo made the decision of comeback after simple communication.
"Mentality is the main difference for us compared with the period before our retirement. We often felt huge pressure then, but now we just to enjoy as much as possible," she pointed out.
The sister duo had more sense of responsibility, especially after they gave birth to their daughters.
"We want to set an example for the Chinese young synchronized swimming athletes, and our babies as well," said Jiang Tingting.
"Wish a bright future for Chinese synchronized swimming athletes," she added.
What will they do next as their journey in the Hungarian capital has come to an end?
"We miss our babies so much, and we want to go back and give them a hug right now," said the smiling sister duo.