Warriors beat Cavaliers to clinch NBA title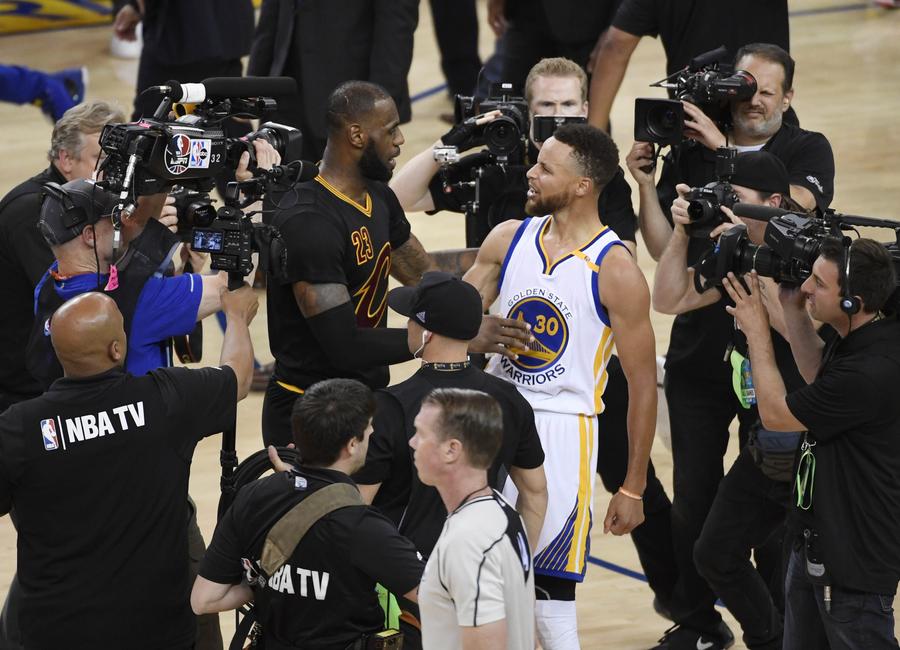 Golden State Warriors guard Stephen Curry (30) greets Cleveland Cavaliers forward LeBron James (23) after game five of the 2017 NBA Finals at Oracle Arena in Oakland, California on June 12, 2017. [Photo by Kyle Terada-USA TODAY Sports via Reuters]
"We learned from everything we've been through," Warriors point guard Stephen Curry said during the trophy celebration. "Our perspective, being blessed to play on this stage three years in a row.
"To be back here and bring gold Larry (O'Brien) back home, I'm just excited to be a part of this group and accomplish something special. I'm ready to do it again."
An unprecedented third straight Finals clash between the Warriors and Cavaliers was hyped as the ultimate championship rubber match and expected to be the antidote for a postseason that had little in the way of drama.
But that idea fizzled fast when the Warriors opened with a pair of lopsided wins at home, fought back late to steal the next game in Cleveland and then, after dropping their first game of the postseason, closed out the series at home.