Monaco soon facing dilemma of whether to sell rising stars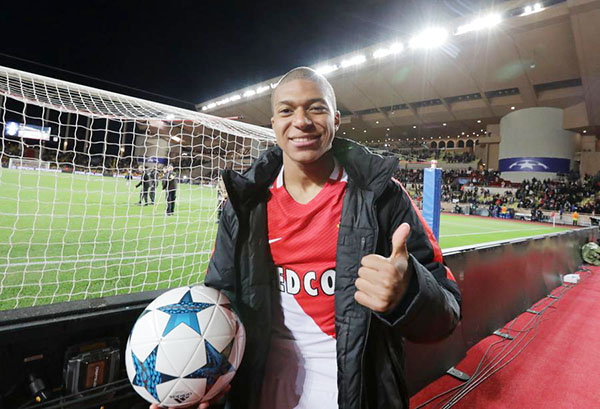 Monaco's Kylian Mbappe-Lottin celebrates after the Champions League quarterfinal second-leg match against Dortmund at the Stade Louis II stadium on April 19, 2017. [Photo/Agencies]
MONACO — To sell or not to sell is the question soon facing Monaco.
Monaco has a summer of tough decision-making ahead — even more so if it wins the Champions League. The 2004 runner-up faces Juventus in the first leg of the semifinals on Wednesday: the toughest test of a thrilling season that has seen Monaco score 146 goals in all competitions.
Monaco's young players have made such an impression — particularly striker Kylian Mbappe — that offers will be flooding in when the transfer window reopens. In the Principality famed for its casino, Monaco will have to choose whether or not to cash in its chips this summer and rake in a huge amount.
"We don't need to sell, our budget is stable," Monaco's vice president Vadim Vasilyev recently told football show Telefoot. "For the time being, no player has said he wants to leave. Ahead of the 2018 World Cup, neither Thomas (Lemar), Kylian or perhaps Bernardo Silva wants to leave ... We'll do everything to keep them."It sounds like reassuring news, but any club wishing to sign the 18-year-old Mbappe will need to make a massive offer. The newly-capped France forward's estimated value is already at 100 million euros ($110 million) and it's not hard to see why.
At the age of 18 years and four months, he is the youngest to reach 15 league goals in Europe's top five leagues since former Golden Ball winner Michael Owen for Liverpool in 1998; the youngest to have reached five goals in the Champions League, and the first player to score in each of the first four Champions League knockout rounds he played in.
Mbappe has netted 24 goals this season, including 18 in his last 18 — and he was playing in the reserves until November. His powerful running, skill, sheer pace, and cool finishing make him a mix between Thierry Henry and Brazil great Ronaldo.
In fact, he is so popular in France that even opposing fans from Lyon and Caen applauded him off the field when he played there.
Only a few clubs can realistically afford him: Barcelona, Real Madrid, Manchester City, United and Juventus.
It puts Monaco in a precarious position, and one they have been in before for different reasons.
In the summer of 2015, because of former Financial Fair Play rules designed to control club finances, Monaco needed to raise money and sold the heart of its team.
Forward Anthony Martial joined Manchester United in a deal rising to 80 million euros ($88 million), while midfielder Geoffrey Kondogbia, winger Yannick Ferreira Carrasco, center half Aymen Abdenour and left back Layvin Kurzawa were all sold — raising about 200 million euros ($220 million) altogether. This followed the sale of Colombia's star forward James Rodriguez to Real Madrid for around 80 million euros the previous summer.
Monaco's finances are far better now and the club will likely not sell more than one or two players this summer. This increases the chances of Mbappe staying as the main striker next season, should Radmael Falcao leave after turning down three offers from Chinese clubs in January.
Here is a look at some of Monaco's other sought-after players.
THOMAS LEMAR
The fleet-footed attacking midfielder has 13 goals this season, including fine strikes home and away against Tottenham in the Champions League group stage.
Along with excellent technical ability, the 21-year-old Lemar also has pace and is an intelligent passer.
While Bernardo Silva roams down the right, Lemar marauds down the left, making it doubly hard for teams to defend the flanks.
Barcelona is among the clubs reportedly interested in signing the France international.
Estimated market value: 40 million euros ($44 million).
BENJAMIN MENDYA powerful, athletic left back, Mendy is also dangerous going forward and especially with first-time crosses into the penalty area at pace.
Although the 22-year-old Mendy rarely scores, the way he combines with Lemar down the left is one of Monaco's biggest strengths.
Mendy's speed and strength already makes him hard to stop. But in addition, he has excellent technique for a defender.
Estimated market value: 30 million euros ($33 million).
BERNARDO SILVA
Silva is a playmaker, a scorer, a tireless runner and a tricky winger rolled into one. No wonder he is among the most coveted young attacking midfielders in Europe.
With his lithe frame, nippy speed and wide passing range, Silva is a menace wherever he receives the ball. When he drifts in from the right to take up a more central position, he becomes a probing No. 10 and his eye for a subtle threaded pass perfectly suits the cunning runs of Falcao and the direct runs of Mbappe.
The 22-year-old Portugal international has nine goals this season, including two in the group stages. But he sometimes pays the price for being so unselfish and hasn't scored since Feb. 17 — a run of 17 matches.
He will be keen to end that lean spell against Juventus.
Estimated market value: 60 million euros ($66 million).
TIEMOUE BAKAYOKO
One of Monaco's most consistent players, Bakayoko is a pillar in front of a sometimes vulnerable defense.
The 22-year-old defensive midfielder is also an astute reader of the game and keeps Monaco ticking with his quick passing out from the back: making him the ideal launch pad for their attacks and the perfect safety net should those attacks break down.
Bakayoko is a threat from set pieces, too, sending Monaco through to the quarterfinals with a towering late header in the return leg against Manchester City.
His immense physical strength and energetic running makes him ideally suited to the Premier League, with Manchester United among his many admirers.
Estimated market value: 30 million euros.
AP