Lozano has his work cut out
Raul Lozano on Wednesday embraced his new role as the first foreign head coach of China's men's volleyball team, telling a Beijing media conference his goal is to helm the squad to the top level in Asia and return it to the Olympic Games at Tokyo 2020.
The 61-year-old Argentine previously coached Spain, Poland, Germany and Iran and has guided three national teams to the Games, including last year in Rio when Iran made its Olympic debut.
"In fact, I was very familiar with China as an opponent. On the way to qualifying for Rio, Iran defeated the Chinese team," said Lozano.
"Now I want to give back something by guiding China to the Olympics."
His appointment has been heralded as "a new era" in Chinese men's volleyball.
Compared to the women's team, which has struck gold at three Games (1984, 2004 and 2016), the men's squad has only qualified for two Olympics - as a substitute in 1984 and as host in 2008.
"China's team is good at attacking, but like other Asian teams, it is weak on defense. I don't think it is because of players' height ... they can do much better and we'll have some targeted training to improve that," said Lozano.
"The success of the women's team is a good lesson for us. I'm very confident about my players, especially their ability to learn and adapt. I'm sure my coaching will bring some positive changes."
Lozano's task won't be easy, as the Chinese Volleyball Association has established a clear timetable for success over the next four years: Winning a medal in the Asian Championship this year; making the final in the Asian Games next year; winning the gold medal in the Asian Championship in 2019 and competing at the Tokyo Olympics.
Xinhua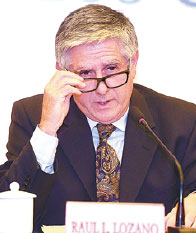 Argentine Raul Lozano has become the first foreign head coach of China's men's volleyball team, with a return to the Olympics a top priority. Li Jundong Xinhua
(China Daily 04/28/2017 page23)