Soccer World Cup needs more than 48 teams, FIFA chief says in Beijing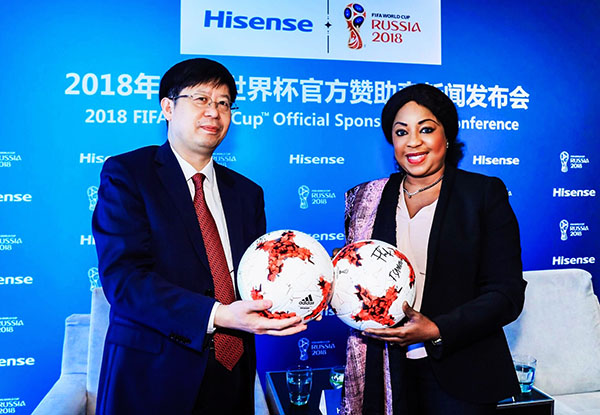 Fatma Samoura, secretary-general of FIFA, right, attends a ceremony to announce a partnership between FIFA and Hisense, a major consumer electronics manufacturer, in Beijing on April 6, 2017. [Photo/provided to China Daily]
The World Cup, soccer's elite tournament, should be expanded beyond the planned 48 teams to help grow the "beautiful game" in developing nations like China, a top FIFA executive said today in Beijing.
The FIFA Council voted unanimously in January in favor of a controversial proposal to expand the final stage of the quadrennial event from 32 to 48 teams starting in 2026.
However, Fatma Samoura, secretary-general of world soccer's governing body, said she believes the plan is not progressive enough to promote the sport in every corner of the globe.
The proposed expansion covers less than 25 percent of FIFA's 211 member associations, "so if you want my opinion, 48 teams are not enough — we need more", she said.
Widening the field will "give all confederations the chance to be part of a longer football festival and (increase) the possibilities of fast-growing nations like China one day hosting the World Cup and lifting this beautiful trophy", she added.
According to draft plans released Sunday, the Asian Football Conferderation will receive eight qualifying places in the new-look tournament, double its current quota. A final decision will be made in May.
Despite concerns that the shake-up could affect the quality of the tournament, FIFA executives have argued that including more teams will aid the game's global development.
"This is something really critical," Samoura said. "We don't want the expanded World Cup to lose the quality, and of course only the best teams can qualify and only the best team will win it.
"Bringing the event to more countries (creates) the possibility to generate more revenue, which will be reinvested in football. Since last year, FIFA has embarked on a large development program, and China is one of the beneficiaries of this funding. The more sponsors we get, the more resources will be injected in the development of football."
China's national team has appeared at only one World Cup, in 2002, and is struggling to qualify for Russia 2018. Samoura, however, was upbeat about the nation's prospects of becoming a global force in soccer.
"I know the Chinese Football Association is in contact with many great leagues ... in Europe, and many programs for training referees and coaches and player exchanges are taking place with many counties," she said. "Hopefully, that will have a positive impact on the game and improve the quality of the Chinese national team."
Samoura, who became FIFA's first female secretary-general in June, was speaking at a ceremony in Beijing to announce a partnership between FIFA and Hisense, a major consumer electronics manufacturer.
The Chinese company has spent almost $100 million to become an official sponsor of the 2018 World Cup in Russia. The deal will see Hisense engage in global marketing activities for the elite event as well as the 2017 FIFA Confederations Cup, also in Russia.
Most Popular
Highlights
What's Hot