World champion Ning Zetao out of Chinese swimming team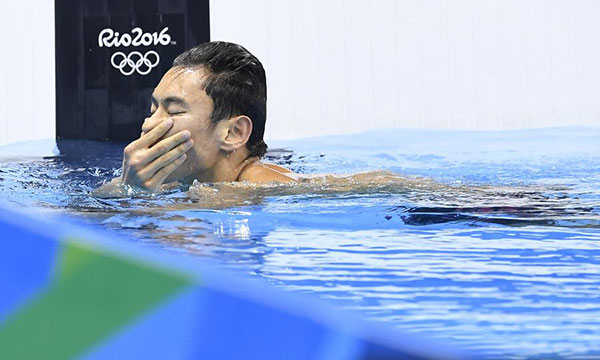 Ning Zetao of China reacts after finishing the men's 100m freestyle semifinal at the 2016 Rio Olympics in Rio de Janeiro, Brazil, Aug 9, 2016. [Photo/Xinhua]
BEIJING - World champion Ning Zetao has violated the rules of the Chinese national swimming team and was turned back to his original Chinese Navy team for training, confirmed the Chinese swimming authority in a statement here on Wednesday.
"Ning Zetao violated the rules of the national swimming team which has resulted in adverse effect on the team, therefore has been turned back for training to his previous team, the Chinese Navy Team," said the Swimming Management Center of the General Adminstration of Sport of China.
"Everyone is equal and should abide by rules in sports," said the statement, adding that the decision was made last October by the Chinese national swimming team "aiming to strengthen the team management, and promote the healthy development of the sport in China."
An internal notification of the Chinese Swimming Management Center, marked on Oct. 18, 2016, was posted on the websites earlier Wednesday morning, disclosing what did Ning violate prior to the Rio Games.
"Ning Zetao signed sponsorship in private without consent of the team, refused to comply with the competition assignment of the team, and even declined to take part in an Olympic qualifying relay event (which resulted in the absence of China's men's 4x200m freestyle relay at the Rio Games)," the notification said.
As a response to the exposure, Ning told a local website that he has not received the internal notification, but he did hand in his letter to exit the national team in September due to physical problems.
Ning, who will be 24 on March 6, rose to the stardom when he won the men's 100-meter freestyle at the Kazan World Championships in 2015, becoming a hot favorite ahead of the Rio Olympic Games.
Yet, Ning met his Waterloo at the Rio Games where he even failed to make the final of his favorite event, a 12th finish in the men's 100m free and a 30th place in the 50m free.
In turning Ning back to the Navy team, the Chinese swimming authority still made it clear that "the door of the national swimming team is always open to those talent who are willing to make contribution to the swimming sport in China."
Most Popular
Highlights
What's Hot