Denver Nuggets stun Golden Warriors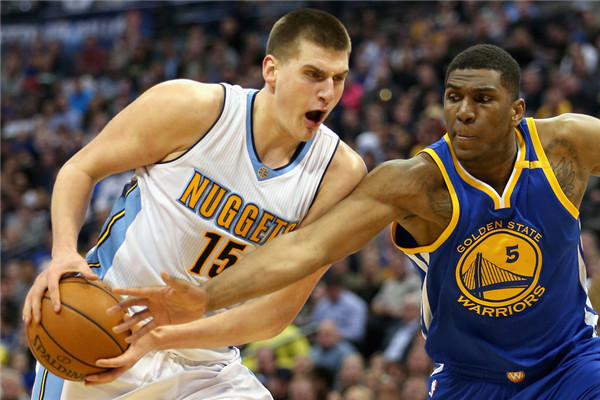 Nikola Jokic #15 of the Denver Nuggets drives to the basket against Kevin Looney #5 of the Golden State Warriors at the Pepsi Center on Feb 13, 2017 in Denver, Colorado. [Photo/VCG]
DENVER — Nikola Jokic got his second career triple-double as the Denver Nuggets tied an NBA record with 24 3-pointers while shocking the Golden State Warriors 132-110 on Monday night.
The Nuggets tied the 3-point mark set by the Rockets in December against New Orleans. They missed two 3-pointers in the final minute, and Jamal Murray passed up an uncontested 3 to dribble out the clock. They finished 24 of 40 from beyond the arc.
The Warriors were just 8 of 32 from long range, including 1 of 11 by Stephen Curry.
Jokic set career highs in rebounds (21) and assists (12) to go with 17 points, and rookie Juancho Hernangomez scored a season-high 27 points, including six 3s. Will Barton added 24 points and Jameer Nelson had 23.
SPURS 110, PACERS 106 INDIANAPOLIS — Kawhi Leonard scored 32 points as San Antonio clinched its NBA-record 20th consecutive winning season with a victory over Indiana.
LaMarcus Aldridge scored 10 of his 19 points during the final 6 1/2 minutes as the Spurs improved to 42-13 in the season following Tim Duncan's retirement. They have had a winning record every season since 1997-98, when Duncan was a rookie, and broke a tie with the Utah Jazz, who had 19 straight winning seasons from 1985-2004.
Paul George scored 27 points and Myles Turner had 22 for the Pacers, who have lost four straight — three on their home court.
CELTICS 111, MAVERICKS 98 DALLAS  — Isaiah Thomas had 29 points and eight assists while his backcourt mate Marcus Smart added 19 points against his hometown team as Boston beat Dallas.
Kelly Olynyk scored seven of his 15 points during a 12-2 run that started with the Celtics leading by one in the fourth quarter as the Atlantic Division leaders won for the 10th time in 11 games. Boston pulled within two games of Cleveland atop the Eastern Conference.
Rookie Yogi Ferrell had 20 points for the Mavericks.
WIZARDS 120, THUNDER 98 WASHINGTON  — Russell Westbrook sat down for good midway through the third quarter while Oklahoma City was in the midst of missing 24 consecutive shots as Bradley Beal and John Wall carried Washington to a stunningly lopsided victory.
Westbrook entered the game leading the NBA in scoring average at 31.2 and third in assists at 10.2 per game, along with a total of 26 triple-doubles, but he finished with only 17 points — equaling his second-lowest total of the season — on 5-for-19 shooting. He had four assists and four rebounds.
Westbrook missed nine field-goal attempts in a row during that eye-opening, team-wide drought when the Thunder were being outscored 32-5 from late in the second quarter to late in the third.
Beal scored 22 points, making 6 of 7 3-point tries. Wall had 15 points and 14 assists.
CLIPPERS 88, JAZZ 72 SALT LAKE CITY  — Blake Griffin had 26 points, 10 rebounds and six assists as Los Angeles rolled over Utah.
The Clippers controlled the game for all but a short stretch of the first quarter while the Jazz had a horrific shooting night. DeAndre Jordan brought the energy early, then Austin Rivers got hot in the second quarter before Griffin had a dominant 12-point third quarter.
Jordan finished with 10 points and 13 rebounds and Rivers had 15 points.
Rudy Gobert had 10 points and 14 rebounds for Utah.
MAGIC 116, HEAT 107 MIAMI  — Evan Fournier scored 24 points and Elfrid Payton added 20 off the bench as Orlando beat Miami to snap a four-game losing streak.
Serge Ibaka scored 17 points and Nik Vucevic finished with 13 points and 17 rebounds for Orlando, while Dion Waiters returned from a sprained ankle and scored 23 points for Miami, whose eight-game home winning streak was snapped.
Goran Dragic scored 22 points for the Heat, who have lost two straight following a 13-game winning streak.
76ERS 105, HORNETS 99 CHARLOTTE, North Carolina  — Dario Saric had 18 points and 11 rebounds off the bench as Philadelphia beat slumping Charlotte for its third straight win.
Charlotte guard Nic Batum failed to make good on his guarantee that the Hornets would beat the 76ers. He had 16 points on 5-of-12 shooting, but the Hornets lost for the 10th time in 11 games.
Robert Covington had 17 points for the 76ers while T.J. McConnell added 14 points and seven assists. Kemba Walker scored 29 points for the Hornets.
GRIZZLIES 112, NETS 103 NEW YORK  — Mike Conley scored 32 points while Marc Gasol had 19 points, nine rebounds and eight assists as Memphis beat hapless Brooklyn.
Brandan Wright added 17 points and Vince Carter had 14 as the Grizzlies won for the fourth time in their last five games.
Brook Lopez and Spencer Dinwiddie each had 17 points as the Nets lost their 13th straight overall and 15th straight at home to set a new franchise record for futility.
PELICANS 110, SUNS 108 PHOENIX — Anthony Davis scored six consecutive points, the last two the go-ahead rebound basket with 40.3 seconds to play, as New Orleans escaped with a victory over Phoenix.
The Suns missed three shots close to the basket in the final seconds, one by Eric Bledsoe and two by P.J. Tucker.
Davis scored 24 points, four below his season average. Jrue Holiday added 18, and Tyreke Evans and E'Twaun Moore had 15 apiece for the Pelicans, playing a night after a loss in Sacramento.
Bledsoe scored 37, the last on a 3-pointer that put the Suns ahead 108-107 with 1:12 to go.
BUCKS 102, PISTONS 89 MILWAUKEE  — Greg Monroe had 25 points and 13 rebounds and Michael Beasley added 23 points as Milwaukee beat Detroit, winning its first home game since star forward Jabari Parker got hurt.
The Bucks led by 22 at one point and held a double-digit advantage for most of the second half. It was a confidence-building outing for a team adjusting to life again without Parker, the 20 point-a-game scorer who tore his left ACL last week for the second time in three seasons.
Marcus Morris led Detroit with 26 points, while Andre Drummond added 21 points and 12 rebounds.
Most Popular
Highlights
What's Hot