Super Bowl woos rush hour crowd in China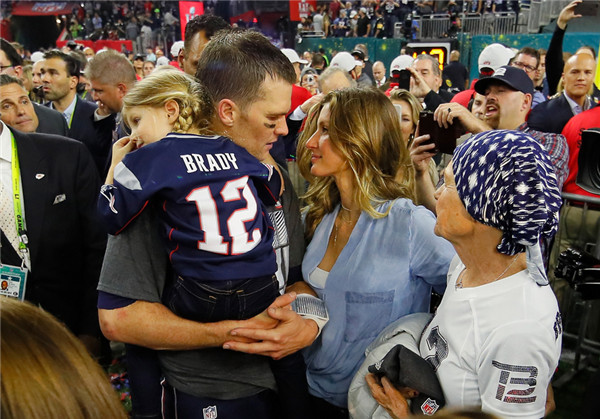 Tom Brady #12 of the New England Patriots celebrates with wife Gisele Bundchen and daughter Vivian Brady after defeating the Atlanta Falcons during Super Bowl at NRG Stadium on Feb 5, 2017 in Houston, US. The Patriots defeated the Falcons 34-28. [Photo/VCG]
As millions around the world settled onto couches and watched the Super Bowl on big-screen TVs on Sunday, fans in China watched the New England Patriots stun the Atlanta Falcons on mobile phones and tablets-on their way to work.
The National Football League is looking to score with viewers in China - where games often start during morning rush hour - via a push online. For the first time, the Super Bowl streamed live on messaging platform Sina Weibo.
The stakes are high for the league's bid to tap the enormous potential of China's 1.4 billion people.
US sports leagues and media companies are increasingly looking to China's market for growth. World Wrestling Entertainment, for example, is training Chinese athletes in hopes of turning them into television sensations.
As the Patriots mounted a stirring comeback against the Falcons, a major hurdle was that when the game began on Sunday afternoon at NRG Stadium in Houston, Texas, it was 7:30 am on Monday in China.
"I watched the first half when stuck in a traffic jam," one viewer wrote in the Weibo live stream forum. "For the second half, I had to be careful not to be caught by my boss at work."
Just over 3 million people tuned in to the live stream to watch the game, according to a viewer count on the site. Others watched via platforms like Tencent and LeSports.
China's interest in football, however, remains a challenge. The sport is still new to China, and the NFL is pushing to reach more television and online viewers, even at rush hour, said Richard Young, NFL China managing director.
"They watch (the games), they pause them. They get on and off the bus" and in and out of the taxi, Young said.
About 1.5 million people in China now watch live NFL games each week on digital platforms, Young said.
Most Popular
Highlights
What's Hot