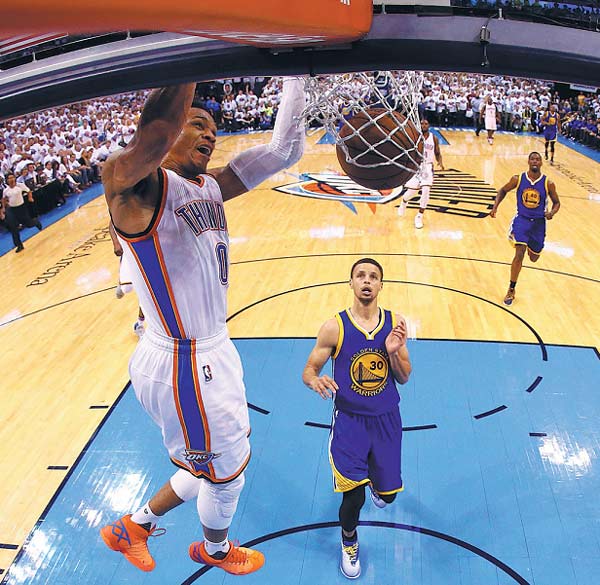 Russell Westbrook of the Oklahoma City Thunder dunks against Stephen Curry of the Golden State Warriors during the first half of Tuesday's Game 4 of the NBA's Western Conference finals at Chesapeake Energy Arena in Oklahoma City. Westbrook had 36 points, 11 rebounds and 11 assists for the Thunder, who can advance to the NBA Finals with a win in Oakland on Thursday. [Photo/Agencies]
Suddenly, these Golden State Warriors who have been compared all season to the Chicago Bulls dynasty of the 1990s are on the brink of elimination.
Russell Westbrook had 36 points, 11 rebounds and 11 assists as the Oklahoma City Thunder beat the Warriors 118-94 on Tuesday night to take a 3-1 lead in the Western Conference final.
Golden State, which won a league record 73 games in the regular season, lost consecutive games for the first time this season and must win Game 5 on Thursday in Oakland to stay alive.
"We all have to bounce back," Warriors coach Steve Kerr said.
"The good news is, we're go home. Obviously we play well at home. The idea now is to go home and get one win. Do that, and we put some pressure on them and we'll see what happens."
Klay Thompson led Golden State with 26 points, but two-time league MVP Stephen Curry was limited to 19 points on 6-for-20 shooting. Curry's shooting performance was so uncharacteristic that reporters asked if he was hurt.
"He's not injured," Kerr said. "He's coming back from the knee, but he's not injured. He just had a lousy night. It happens, even to the best players in the world."
The Warriors lost consecutive playoff games by at least 20 points for the first time since Games 2 and 3 of the 1972 Western Conference semifinals against the Milwaukee Bucks.
Golden State's Draymond Green, who was fined for kicking Steven Adams in the groin in Game 3, finished with six points, 11 rebounds and six turnovers.
Meanwhile, Oklahoma City got a boost from an unlikely source. Andre Roberson, a player the Warriors have ignored at times during the series, scored a career-high 17 points and grabbed 12 rebounds.
Kevin Durant added 26 points and 11 rebounds and Serge Ibaka added 17 points and seven rebounds.
As for Westbrook, it was his first triple-double of the playoffs after posting 18 in the regular season.
"I play every game like it's my last, regardless of who's in front of me," he said. "That's my job. My job is to worry about my team, and that's all I do."
The Thunder know they have to close it out. Nine teams have rallied from 3-1 deficits to win.
"I think we're in a good place, but like I said, this game is over," Westbrook said. "We've got to move on to the next game. Every game is different."
The Thunder led 30-26 at the end of the first quarter, then gained control in the second.
In the most unlikely of connections, Adams threw a bullet pass to Roberson near the basket for a dunk that gave the Thunder a 56-43 lead with just over four minutes left in the first half.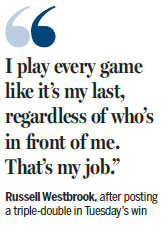 OKC finished with a flurry and led 72-53 at the break. The Thunder matched the most points they have scored in a first half in playoff history, a mark they set the previous game against the Warriors. It also matched the most points Golden State has allowed in a half this season for the second straight game.
Westbrook had 21 points, nine assists and five rebounds in the first half, and Durant had 18 points and six boards.
Thompson tried to keep the Warriors in it, scoring 19 points in just over seven minutes to start the third quarter. But the Thunder maintained their composure, led 94-82 at the end of the period and remained in control in the fourth.
"This is a tough situation to be in, but the series isn't over," Curry said.
Quotable
"We had a tremendous regular season, our guys competed every single night and did something no one has ever done, and they're proud of that. But in the playoffs, everybody starts 0-0. So there's no extra pressure, whether you're talking about defending our title or trying to back up the regular season."
- Kerr, on the pressure to win a title after setting the regular-season wins record