China makes final in both men's and women's curling at Asiad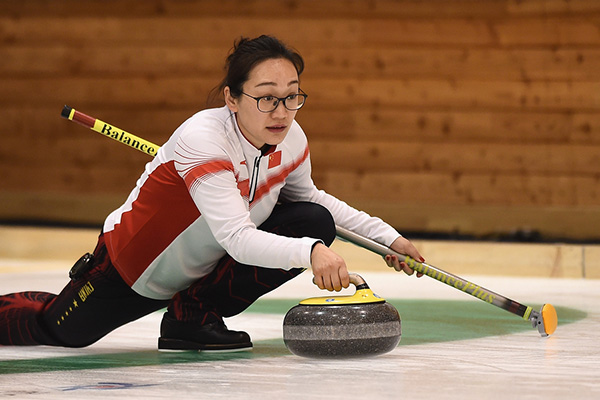 Yan Zhou of China places a stone during the women's curling match between China and Japan on day five of the 2017 Sapporo Asian Winter Games at Sapporo Curling Stadium on February 22, 2017 in Sapporo, Japan. [Photo/VCG]
SAPPORO, Japan - China proved its strength in curling as both the men's and women's teams reached the finals at the eighth Asian Winter Games here on Wednesday.
The Chinese men's curling team beat Chinese Taipei 8-1, setting a clash with hosts Japan after a six-game winning streak.
Both sides failed to score in the first half, but China found the pace in the second half, and won two points in the sixth end, one in the seventh and three in the eighth.
China's Canadian coach Marcel Rocque was satisfied with the result.
"I am happy we can prepare for the final now, and we have a chance to win the gold," he said. "We pushed them hard in the second half and forced them to make mistakes. In curling, even one tiny mistake may change the total situation."
In the other semifinal, Japan edged defending champion South Korea 6-5 to reach the final. South Korea will meet Chinese Taipei for the bronze on Thursday.
The women's team, led by veteran Wang Bingyu, also reached the final after edging Japan 6-5. They will take on South Korea, who defeated Kazakhstan 15-3, in the final on Friday.
Most Popular
Highlights
What's Hot