Contrite Hackett looks overseas for mental-health help
SYDNEY - Australian Olympic swimming great Grant Hackett said he will seek overseas treatment for mental-health problems after what he called "the toughest week of my life".
The 36-year-old, who went into hiding after his brief arrest last week following a family fight, released a statement thanking "mom and dad for helping me through the toughest week of my life".
"I know I have some mental-health issues and I am seeking help here in Australia and I will be also going overseas," he said in the statement released on Tuesday.
Hackett checked into a US rehabilitation clinic in 2015 to treat an addiction to sleeping pills.
His father Neville had reported the former 1,500m world-record holder missing, sparking fears for his safety.
The retired swimmer posted a picture on social media showing himself with a black eye, and accused his brother Craig of beating him up.
But Hackett said in the statement he had resolved those differences.
"My brother and I have reconnected and love each other very much; our family has always been our priority," he said.
Police released the double Olympic gold medalist without charges on Feb 15, just hours after his family had him arrested following a bout of heavy drinking which led to "uncontrollable rage".
Hackett came out of six years of troubled retirement in 2014 in a bid to make the Rio Games.
He narrowly missed out on a berth and after the Olympic trials in Adelaide last April, he hit the headlines again with a public meltdown on a plane.
Hackett was accused of drunkenly squeezing the nipple of a fellow business-class passenger in an embarrassing incident that prompted him to vow to quit drinking.
He retired after the 2008 Beijing Olympics, having won the 1,500m freestyle at both the 2000 Sydney and 2004 Athens Games. He also claimed four world titles in the event.
Following his success at the Beijing Games, Hackett quickly ran into problems with a messy divorce and allegations he smashed up his Melbourne home in 2011.
Agence France-Presse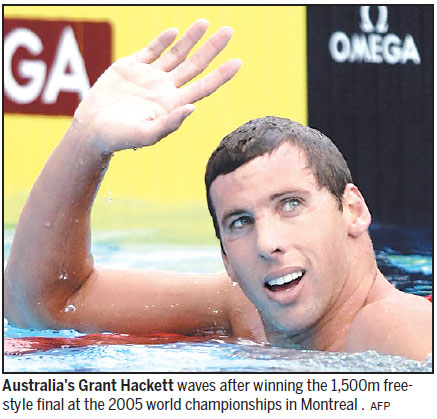 Most Popular
Highlights
What's Hot