Riccardo predicts Red Bull, Mercedes fight at the top in 2017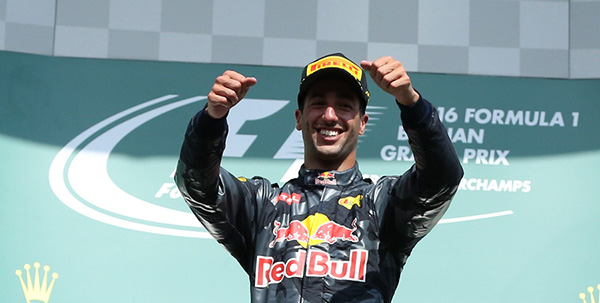 File photo shows Red Bull Racing Team's Australian driver Daniel Riccardo celebrates his 2nd position on the podium after Formula One Grand Prix of Belgium at Circuit de Spa- Francorchamps in Spa, Belgium on August 28, 2016. [Photo/VCG]
Despite the raft of regulation changes being eschewed in for the 2017 Formula 1 season, including higher downforce and wider grippier tires, Daniel Riccardo expects Red Bull and Mercedes to remain at the top of the field.
In an interview with the official Red Bull Racing website, the Australian driver said that he expects the experience for both drivers and fans to change, with the new cars expected to lap up to five or six seconds faster per lap in 2017.
"I think there will be changes, but how it alters the pecking order we'll have to wait and see," said Riccardo. "I still believe that Mercedes and Red Bull will be at the pointy end – hopefully in reverse order to last year!
"The cars are going to be quicker, the tires wider, so maybe on some narrow circuits it could be a bit trickier, especially with a wider car; that might make the available room for opportunity slightly less. The cornering speeds will be quicker."
With preseason testing set to kick off at Circuit de Barcelona-Catalunya from Feb 27 to March 2, Riccardo is looking for reliability before a quick car.
"The first thing you're looking for is reliability. There are so few test days available. You know track time is important for the car, for development, but it's also important for us physically. I know that my pre-season has been the best I've had in terms of physical preparation but it's still not driving a race car.
"After the reliability is settled you want to go through a corner and feel it in your bottom that it's a fast car. Once you do one flying lap, you get an idea. It's just the way it brakes and turns – you just know. Hopefully, it's a good feeling, that first timed lap."
Riccardo finished best of the rest after the Mercedes duo of NicoRosberg and Lewis Hamilton in the 2016 championship. When asked about his expectations coming into the first race in Melbourne on March 26, Riccardo said, "I don't write stuff down and say 'Melbourne I want to be on podium' or 'here I want to do that', I just make sure I'm prepared for every race.
"I've said it for a few years, the one thing I want to do, if it is a goal, is never leave the race on a Sunday, on a flight home, thinking "I should have done this or that". I want to leave it all on the track on Sunday."
Most Popular
Highlights
What's Hot