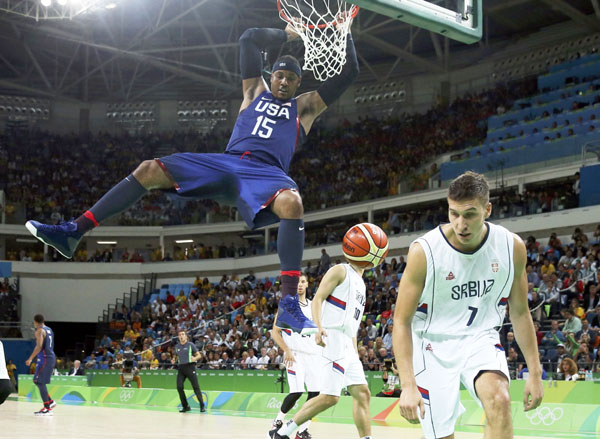 Carmelo Anthony (USA) of the USA stuffs the ball past Bogdan Bogdanovic (SRB) of Serbia. [Photo/Agencies]
Carmelo Anthony had one last thing to teach his young teammates after Sunday's 96-66 victory over Serbia.
On the podium wearing his third Olympic gold medal, Anthony, who led an inexperienced Team USA from the moment it first gathered weeks ago in Las Vegas, pointed toward one end of Carioca Arena, to the spot where the US flag was about to rise.
"I just told them: 'Look at the highest flag,'" Anthony said. "And that's what we did."
Now there's nothing left to do for Anthony, whose Olympic career began in disgrace and ends with him being the most decorated player to ever wear a US jersey. It's a comeback that's difficult to believe.
"I don't think I can explain how I feel right at this moment," he said, adding he will retire as an Olympian.
"I know this is the end. This is it for me. I committed to this in '04, and I've seen the worst and the best. I'm here today three gold medals later."
The only US male player to be chosen for four Olympic teams, Anthony became the first to win three golds as Team USA saved its best for last.
Sunday's blowout capped a remarkable 12-year journey around the five interlocking rings for Anthony, only 20 and fresh off his rookie year in the NBA when he played on a 2004 team remembered for failure.
The US lost three times at those Athens Games, and the sight of the players wearing olive wreaths on their heads, bronze medals around their necks and disappointment on their faces was a low point for USA Basketball.
But along with LeBron James, Dwyane Wade, Kobe Bryant, Chris Paul, Kevin Durant and others, Anthony helped pump pride and power back into the program.