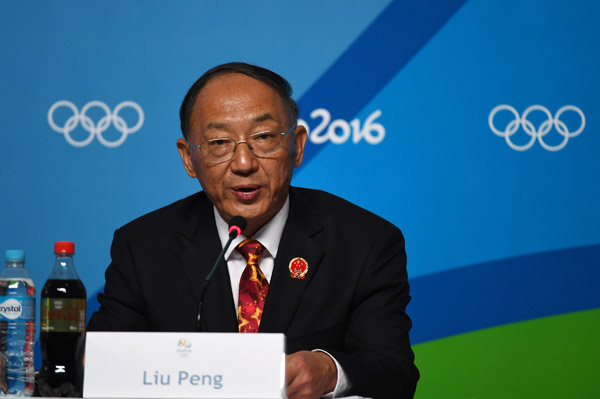 Liu Peng, Chef de Mission of China, addresses during a press conference in Rio de Janeiro, Brazil on August 20, 2016. [Photo/Xinhua] 
RIO DE JANEIRO - Chef de Mission of China Liu Peng told a press conference on Saturday that the spirit of the Chinese athletes showed during these Olympic Games moved and motivated a lot though less medals achieved in Rio.
The Chinese delegation chief briefed on Team China's performance, which saw 24 gold, 18 silver and 26 bronze medals from nine sports and a No 2 position of all medals and No 3 collection of golds till the penultimate day of the 16-day grand event.
"With the sport excellence achieved by the Chinese athletes, Team China has met the expectations we set for these Olympics," said Liu.
"It's more important, however, that our athletes showed patriotism, collectivism and indomitable spirit while well carrying out sportsmanship during the Games.
"In the meanwhile, more than a half of Team China's gold medalists are Olympic debutants, showing the world that there's further more to expect from future Chinese sports," he added.
China sent 416 athletes to the Rio Olympic Games, including 35 Olympic champions, among which three gold medalists of both Beijing 2008 and London 2012, all from the legendary Chinese diving team, defended their respect titles here.
Wu Minxia, a four-time Olympian having won five Olympic golds including one in Rio, said she's extra motivated by her peers and would try her best to stay active in the pool.
"As a member of the heroic Chinese diving team, I'm very proud that my whole team has kept working so hard to establish the unprecedented achievement on Olympic stage.
"I'm truly grateful to be supported by so many people, especially the ones working alongside with me," said the 30-year-old. "We are a team. I'm not able to be so successful in Olympics just by myself. Honor belongs to the whole team."
There're also some sports that China traditionally holds advantages on, but suffered setbacks in these Olympics, including badminton which was concluded on Saturday when China failed to defend three out of five titles they swept in London.
"The less satisfactory results from specific sports reminded us that no one can lay on the past glories and keep winning without further efforts," said Liu.
"In four years, there comes Tokyo 2020. And the Chinese sportsmen and women will keep working hard on both competitive and mass sports, hoping to show better performance and high-note spirit in next Olympics," he added.