Once restrained, young players not shy about expressing love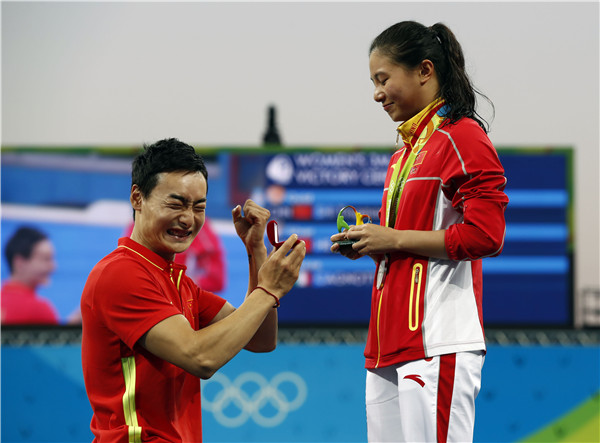 Chinese diver Qin Kai gets a yes after proposal to his girlfriend, He Zi, at the Rio Olympics after the medal ceremony for the women's 3m springboard, Aug 14, 2016. [Photo/Xinhua]
Chinese players might not be delivering their best-ever Olympic performance at Rio, but it seems they have made progress in one sport over the years - expressing their love.
In front of global TV audience, Chinese Olympic diver Qin Kai got down on one knee and proposed to teammate He Zi just moments after she won a silver medal in the women's 3-meter springboard. She said yes through tears of joy after their six-year-long romance.
"He made a lot of promises," He, 25, said of Qin's words, "but the thing that touched me the most is that I think this is the guy I can trust for the rest of my life."
Although romance was still taboo for some teams in the country until a decade ago, lovebirds are not so fresh nowadays.
Beijing Olympics shooting gold medalists Du Li and Pang Wei became the first Chinese Olympic champion couple when they married in 2009.
Lin Dan, China's two-time Olympic badminton champion, held a romantic wedding ceremony with former world top women's player Xie Xingfang in 2012.
It's a big change from the days when banning love in sports team was considered as rational and common in sports management.
Thanks to the changing attitude, Qin and He don't have to choose between medals and love.
Tang Yue contributed to this story.