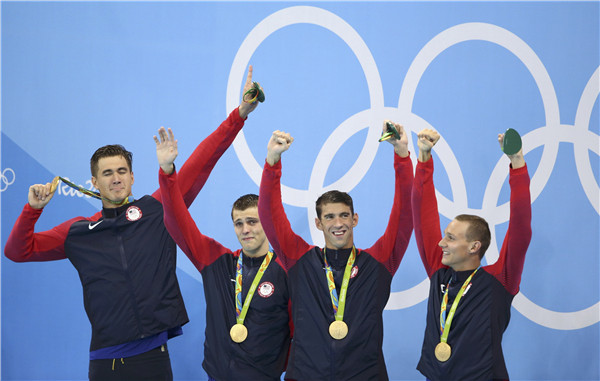 Michael Phelps (second right) and his teammates from the USA pose with their gold medals after winning the 4x100 meters freestyle relay at Olympic Aquatics Stadium in Rio de Janeiro, Brazil, on Aug 7, 2016. [Photo/Agencies]
RIO DE JANEIRO - Michael Phelps made all the difference as he won the 19th Olympic gold medal of his astonishing career on Sunday and helped the US men's team to victory in the 4x100 meters freestyle relay.
The 31-year-old, raising a roar from the crowd on his first competitive appearance at his fifth Games after sitting out the heats, now has an unprecedented 23 medals with two silvers and two bronzes filling out his tally.
London 2012 champions France took the silver medal, their third successive podium in the 4x100, and Australia the bronze.
With baby son Boomer in the audience for the first time at an Olympics, Phelps swam the second leg of a race that has brought him four of his medals over the years including gold in Beijing in 2008.
If anyone is used to the atmosphere and the pressure, it is Phelps but even he - 16 years on from his Olympic debut - felt the sense of occasion.
"On the block I thought my heart was going to explode, I was so hyped, so excited," he said. "It was so loud, I don't think I've ever heard something like that."
The most decorated Olympian of all time has now won gold at four separate Games, the first swimmer to do so.
The US team set a world record of three minutes, 8.24 seconds in the Beijing final, a race in the bodysuit-era that still stands and is likely to endure for some time to come.
On Sunday they came closer than anyone has ever done wearing textile suits, when the quartet of Caeleb Dressel, Phelps, Ryan Held and 100 freestyle world champion Nathan Adrian clocked 3:09.92.
Dressel completed his opening leg just two hundredths behind the French in 48.10 and Phelps made the difference, taking the lead off a strong turn and clocking out at 47.12 with Held putting in a 47.73 and Adrian fastest of all in 46.97.