Don't be fooled by Kosuke Hagino's quiet demeanor and toothy grin. Japan's swimming sensation plans to usher his boyhood hero, Michael Phelps, into retirement at the Rio Olympics.
The 21-year-old Hagino, who edged Phelps to take bronze in the 400-meter individual medley behind gold medalist Ryan Lochte in London four years ago, is targeting double gold in Brazil.
"I was lucky to (win a) medal in London," Hagino said on the weekend. "But this time there will be no luck involved."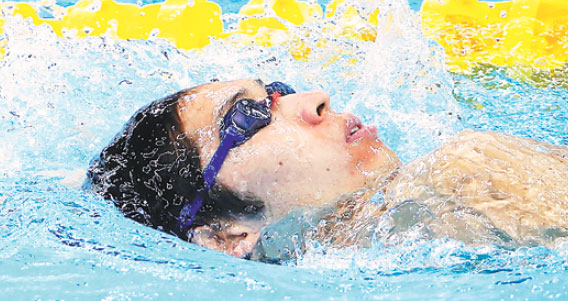 Japan's Kosuke Hagino practices in Rio de Janeiro on Saturday. Edgard Garrido / Reuters
Ten years younger than Phelps and Lochte, Hagino has his sights set on an individual medley double in the 200 and 400.
Phelps completed an astonishing hat-trick in the 200m medley in 2012, defending the title he won in Athens and Beijing.
But Hagino has posted this year's fastest time in the event and the American superstars will be absent from the 400m.
"It's a totally different feeling to four years ago," said the 2014 swimmer of the year. "My aim will be to win gold in the 200 and 400 medley, no question."
Hagino, poised to emerge from the shadow of countryman Kosuke Kitajima after the former Olympic champion failed to qualify for Rio, will also be a decent bet to win a medal in the 200m freestyle and 4x200m freestyle relay.
His 200m freestyle victory over Chinese giant Sun Yang was one of the highlights of the 2014 Asian Games, where he won four gold medals, only for his momentum to be halted after he fell off a bicycle and broke his elbow.
Hagino missed last year's world championships as a result but said there will be "no excuses" if he comes up short in Rio.
While he admits there will be no room for sentimentality, Hagino makes no secret of his gushing admiration for Phelps - the most decorated Olympic athlete of all time with 22 medals from three Games - 18 of them gold.
"It's just a real privilege to compete against him," said Hagino, who also has a pair of silver medals from the world championships in 2013.
"I watched him on TV when he won eight gold medals in Beijing. Even if I beat him, I'll never be like Phelps."
Brazilian Thiago Pereira, who edged Hagino for silver behind Lochte in the 400m medley in London, will also be a threat at his home Olympics.
But in celebrity-obsessed Japan, the Olympic swimming competition is already being billed as Hagino versus Phelps.
Dwarfed by six-footers Phelps and Lochte, Hagino stands at just 5-foot-9.
But what he lacks in size, the Japanese makes up for with superb technique and steely determination.
"It will come down to mental toughness and squeezing every last drop out of your body," said Hagino.
"It's about hanging in there over the last 15 meters ... and Phelps and Lochte have longer arms than me.
"Hopefully with my little body I can be a head in front at that point."