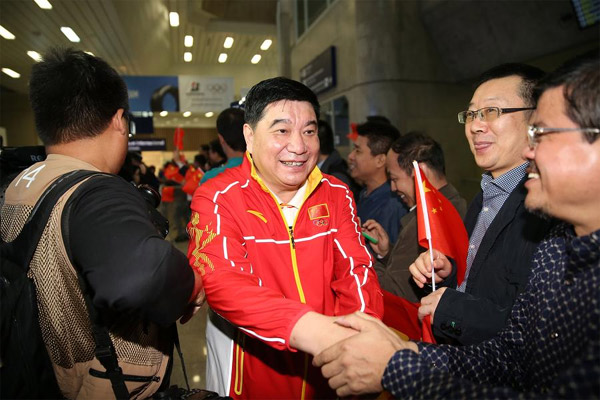 Deputy manager of the national shooting team Wang Yifu shakes hands with the local Chinese at the airport in Rio, July 28. [Photo/Xinhua]
RIO DE JANEIRO - China has been a strong team in Olympic shooting sport since Xu Haifeng got the very first Olympic gold for the country in 1984 Los Angeles Games.
A large squad including 23 marksmen and markswomen was sent to compete in 13 shooting events in Rio. Announcing no specific goal, the team has minimized the expectation for medals. However, with as many as 21 Olympic golds in the last 8 Games, China won' t return with nothing in hand.
China has an experienced shooting team, in which six athletes have got Olympic titles.
China is strong in all the 10 rifle and pistol events, especially in women' s 10m air rifle which will produce the first gold medal for the 2016 Games. Both Du Li and Yi Siling had successful experiences in getting the "First Gold" for the Chinese delegation, and the Olympic champion duo were expected to continue their winning record in Brazil, but it will be no surprise if any of World No.1 Serbian Andrea Arsovic, Iranian stars Elaheh Ahmadi and Najmeh Khedmati wins at last.
"I' m not as nervous as four years ago," said defending champion Yi, "but it' s really hard to start from the very beginning."
According to Team official Xiao Haopeng, the squad isn' t as strong as imagined because of several key injuries.
"Neither Du or Yi was on the top form," said Xiao. "and several other team members had injuries."
38-year-old veteran Chen Ying is the eldest athlete in Chinese delegation. She won gold at women' s 25m pistol in Beijing 2008 Games, and took home silver four years later in London.
"Chen is trying to recover, but she isn' t physically well-prepared for the Olympics," said Xiao.
There will be more challenge for China in pistol events. Both Pang Wei and Guo Wenjun are in good form, but many shooters from other parts of the world such as South Korean star Jin Jongoh, Belarus markswoman Viktoria Chaika will become strong contenders.
On men' s rifle, Chinese talent Yang Haoran is among the top favorites, but World No.1 Matthew Emmons also has the ability to claim the top level on the podium.
In shotgun events, Chinese veteran duo Wei Ning and Hu Binyuan caught a lot of attention. 34-year-old Wei was two-time Olympic silver medalist, and she expects to move one step higher in her fourth Olympics.
Beijing Olympic bronze medalist Hu is also competing in his fourth Games. He was among the top-level shooters on men' s double trap, but shooters from the United States, Italy and Slovakia are also strong contenders for the title.
"We have to adapt to the weather in Brazil, and the physical condition of the athletes will also become a challenge," said Xiao.