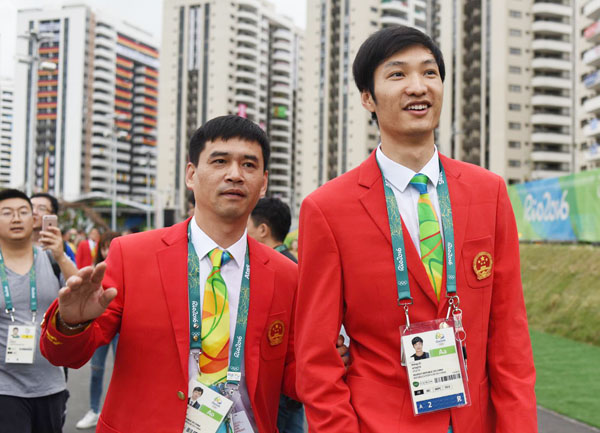 Olympic fencing champion Lei Sheng, right, is named China's flag-bearer at the Rio Olympic Games opening ceremony in Rio de Janeiro, Aug 3, 2016. [Photo by Wei Xiaohao/China Daily]
Olympic fencing champion Lei Sheng has been named China's flag-bearer at the Rio Olympic Games opening ceremony.
The 32-year-old Lei became China's first male foil Olympic champion four years ago in London. The 1.90m fencer was also a twice world team titlist.
China's flag-bearers at the previous summer Olympic Games were basketball players since 1984. Former NBA star Yi Jianlian was picked to carry the flag in London.
"I had overcome the jet lag and the climate problem after training in Sao Paulo. I am in good shape right now, and I can't wait to face the challenge in Rio," said Lei.
"I am working hard on physical training and trying to move faster in attack modes. I did some special training to prepare for the tournament when I face up shorter opponents," he added.
Chinese fencing team had a one-week training camp in Sao Paulo before they arrived in Rio on Monday afternoon. Ye Chong, the head coach of Chinese men's foil team, said he specially arranged afternoon training to solve the jet lag since they came to Brazil.
"Brazi's afternoon is the the early morning in China. So it is the toughest training time for our athletes in Brazil," said Ye, who won the silver medal as a member of the Chinese foil team in the 2004 Athens Olympics.
It will be Lei's third Olympics and he knows the it is too far at his age.
"Rio is most likely my last time to compete in Olympics. I want to enjoy it and finish it with a good result," Lei said.
The men's foil individual competition begins on 7 August at Carioca Arena 3.