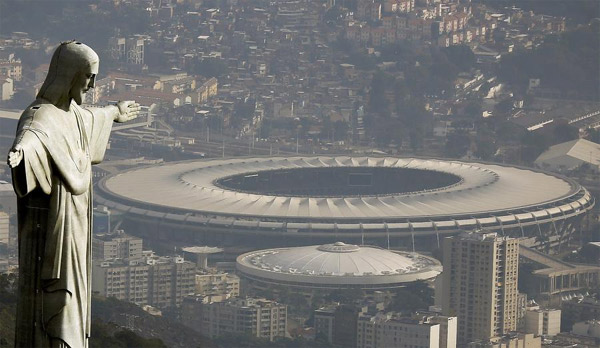 An aerial view shows the Christ the Redeemer statue with the Maracana stadium, where the opening cermony of the Rio 2016 Olympic Games will be held, in Rio de Janeiro, Brazil, July 16, 2016. [Photo/Agencies]
RIO DE JANEIRO - Rio 2016 opening ceremony organizers have urged athletes to participate in the Olympic curtain-raiser on Friday, promising them "the coolest party they have seen."
Some delegations, including Australia and Britain, have said that many of their athletes will miss the four-hour extravaganza at the Maracana stadium to concentrate on their events.
"We call on athletes to come to what will be the coolest party they have seen," the ceremony's executive producer Marco Balich told a news conference on Thursday. "We have created a big athletes' parade and artistic parade with a surprise at the end.
"The athletes are the center of the show. We know that the Maracana stadium is a long way from [the Olympic village], but I encourage all athletes to participate because it will be a magnificent experience. And we know that the Brazilian audience will react in a beautiful way, as Brazilians always do. "
Balich has previously been involved in 16 Olympic opening and closing ceremonies and Rio will be the third time he has been executive producer, after Torino 2006 and Sochi 2014.
He said Brazil's worst recession in decades had played a part in the show's content, which will feature less high-tech effects than at previous Games.
Some 21 million US dollars have been spent on the opening ceremony in Rio, about half London's outlay four years ago.
"The budget is irrelevant," Balich said. "I think it's right, given the situation the world and Brazil finds itself in, that we don't have an opulent ceremony. We want to deliver a show with heart and passion.
"Our repertoire will be very analog but it will be deployed with high values like peace and tolerance, which are needed in the world today. And we have conveyed the message of sustainability which has excited and motivated all of us."
Balich played down a decision by suspended president Dilma Rousseff to miss the ceremony as she faces an impeachment trial for allegedly breaking budget rules.
Former president Luiz Inacio Lula da Silva has also declined an invitation.
"It's important that the Olympic ceremony stays in the collective mind forever," Balich said. "You don't remember who was the president at other Olympic Games. You remember Muhammad Ali lighting the torch in Atlanta and the archer in Barcelona. We have to celebrate humanity and celebrate Rio."
Another of the creative directors, Fernando Meirelles, said previous opening ceremonies, particularly the spectacle that kick-started the Beijing 2008 Games, had served as inspiration for Rio.
"Beijing was amazing, it set a new standard," Meirelles said. "If Beijing was powerful and London was smart, Rio will be cool."