Editor's note
The flames of French World Cup which brought hundreds of thousands people to Europe still has its residual heat, while the upcoming Rio Olympics will undoubtedly set off the travel boom to South America.
Not only Olympic Games, but other important and hot sporting events have boosted the tourism industry. However, because of the small audience and resource shortage, the threshold of the sporting events tourism has been quite high. But due to the huge potential of the sports tourism, many online and offline travel agencies have been scrambling for the cake.
Olympic tours a hit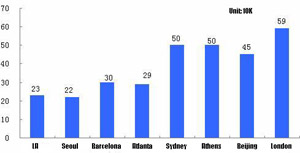 The number of tourists during each Olympic Games 
Because of their high level and universality, quadrennial Olympic Games and the football World Cup are the two most important sporting events, and can have a big effect on the tourist industry of the host country.
Take the Olympic Games as an example. During the 2004 Athens Olympic Games, there were a total of 500,000 tourists, and the following year, 2005, Athens saw tourist numbers increase 5.6 percent and 8.4 percent in 2006. In 2012 London Olympics, visitors reached 590,000 and the average consumption of each visitor was 1,290 pounds (about 12,900 yuan at that time), significantly higher than the average consumption of other types of tourists which was 650 pounds. In 2013, London witnessed more than 16 million tourists, becoming the world's most visited city.
An insider said that whether a sport event can attract tourists depends largely on its popularity, the host place, the convenience of visa and traffic and whether there are contestants from their own country.