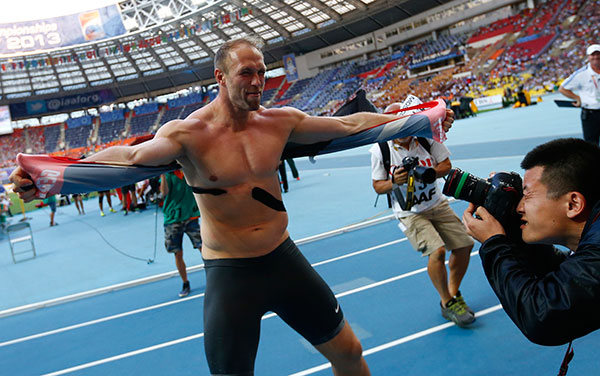 Robert Harting of Germany rips his shirt to celebrate winning the discus final at the 2013 IAAF World Athletics Championships in Moscow. Reuters
Olympic discus champion Robert Harting is Germany's version of the 'The Incredible Hulk' - and he has sharp words for anyone who makes him angry.
The 31-year-old's trademark celebration after his numerous victories on the big stage is to rip his competition shirt to tatters.
His jersey-tearing joy saw the UK media dub him 'The Incredible Harting', albeit minus the green look, when he won gold at the 2012 Olympics.
At 6-foot-8, the German giant became a force on the discus scene by winning three consecutive world titles from 2009-13, plus the London Olympic title four years ago.
And, as International Olympic Committee president Thomas Bach discovered recently, you don't want to make him angry.
Harting has long been a critic of his countryman Bach and has no qualms about speaking his mind.
When the IOC opted not to blanket ban all Russian athletes from the Rio Olympics, despite evidence of a state-led doping system, Harting let the IOC president know he was displeased.
"As far as I am concerned he is part of the doping system, not the anti-doping system. I am ashamed of him," Harting said.
"I have often expressed my disappointment in Thomas Bach, but this is a new dimension of disappointment."
Harting has never been afraid to make a stand.
In 2014, the German had himself removed from the list of candidates for world athlete of the year, in protest against the nomination of US sprinter Justin Gatlin, who has twice been banned from athletics over positive drug tests.
Injury saw him miss the entire 2015 season and he has struggled with knee and shoulder problems this season.
He says he is no longer the favorite, with Poland's Piotr Malachowski arriving in Rio as the world champion - a state of affairs Harting enjoys.