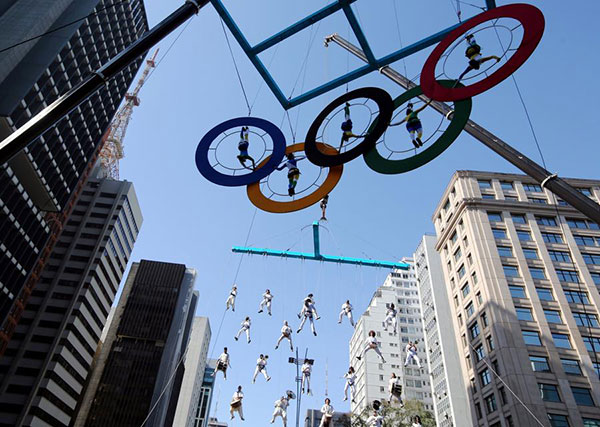 Acrobats perform on the Olympics rings at Paulista Avenue in Sao Paulo's financial center, Brazil, July 24, 2016. [Photo/Agencies]
After the fire, Chiller said Rio 2016 organizers increased security throughout the Olympic village.
"There is a much greater security presence than at the start, when there were a lot of contractors and workers in the village," she said.
"Rio 2016 engaged a private security force and we now have private security and every building has (that) on either side of the doors. The security presence is there."
Rio's crime rate has been one of the biggest concerns heading into the Olympics. China revealed on Friday members of its Olympic delegation had already fallen victim to theft.
Chiller said the vast size of the Olympic Village, which houses thousands of athletes and support staff, "theft is going to be inevitable."
She rejected any suggestion Australia's delegation was being deliberately targeted, however.
"Nobody would target the Australians. They wouldn't dare," she said.