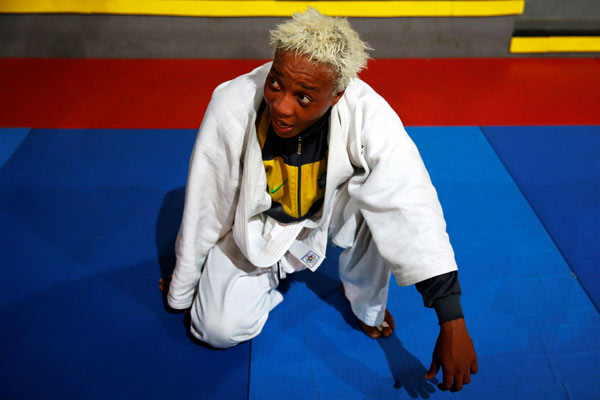 Refugee and judo athlete from the Democratic Republic of Congo Yolande Mabika looks on during a training session in Rio De Janeiro on July 28, 2016. [Photo/Agencies]
Yolande Mabika, a judoka from Democratic Republic of the Congo, echoed that she's living a dream of able to compete in Olympics after going through struggles for life.
"We gonna show that refugees are able to do everything other people do all around the world," said the 28-year-old who called back memories of crying out when she got to know that her name was among refugee athletes for the Rio Games.
The other judoka of the refugees team, Popole Misenga, also from DR Congo, told reporters that he never thought he'd have the chance to represent refugees in Olympic Games.
"Sports have transferred my life," said the 24-year-old who separated from his family at just nine years old. "Today I come out representing Refugees Olympic Team and everybody cheers for me. Thank God I'm part of the team. The Olympic Committee made it happen."
His coach Geraldo Bernardes, former coach of the Brazilian judo team from 1979 to 2000 praised the refugee athletes "not just champions for sport but champions for life" .
"It's an honor for me to coach such a special team," said the 73-year-old Brazilian. "As people transfer their lives through sports, we'll support them to receive better training."
The IOC president Thomas Bach first present the idea of forming a refugee team last October in his presentation in the headquarters of the United Nations, saying the initiative would send a powerful message of hope to asylum seekers around the world.
"It is a signal to the international community that refugees are our fellow human beings and are an enrichment to society," he said. "These refugee athletes will show the world that despite the unimaginable tragedies that they have faced, anyone can contribute to society through their talent, skills and strength of the human spirit."