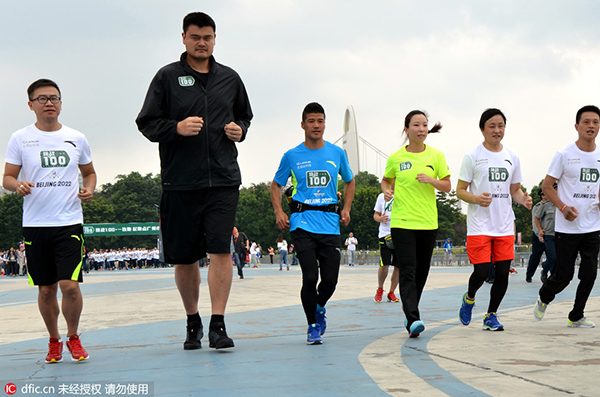 China's former NBA star Yao Ming, 2nd form left, and veteran tennis player Zheng Jie, 3rd from right, join in a marathon event initiated by Chen Penbin in this 2015 file photo. [Photo/IC]


Chen Penbin is a 38-year-old endurance running athlete and extreme marathon runner from Taizhou, East China's Zhejiang province, and is perhaps China's most famous marathon runner.

Chen is the first extreme running athlete to finish the "Extreme Marathons on seven continents". Note that the races he runs are not ordinary marathons but extreme marathons, which involve even longer routes than the normal ones, with additional obstacles on the running track, for example, jungle marathons, or 100-km marathons.

Chen ran a 100-km extreme marathon in Antarctica in 2014, winning with a record of 13 hours 57 minutes and 46 seconds. He became the first Chinese who has won an international extreme marathon.

Last year, he participated in a challenge, in which he ran 100 marathons in 100 days.

In addition, Chen is also the first Chinese person to make the cover of American Outside magazine.

Here is Chen's advice on running for ordinary mortals among us.

How to breathe

Chen thinks that for runners, how to breathe is not the most important. Runners don't have to adjust their breaths intentionally. He says that you should listen to your body, and breathe according to how much oxygen you need.

"Many ask me about how many steps they should take during a breath, which to be honest I've never paid much attention to. I open my mouth to breathe, freely, when I run."