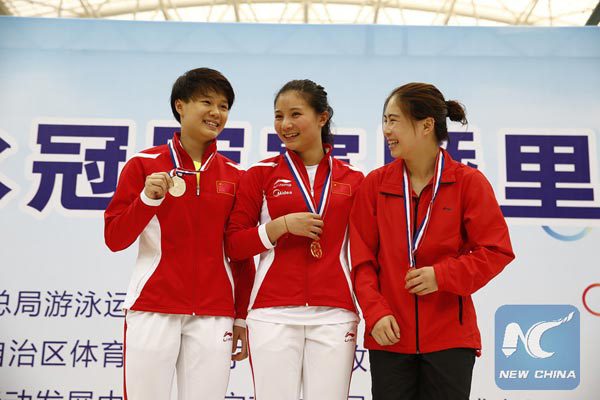 He Zi (C), Shi Tingmao (L) and Huang Xiaohui (R) are on the podium after women's 3m springboard at a national trial in Nanning on May 10, 2016.[Photo/Xinhua]
NANNING - Olympic and world champions Wu Minxia and Chen Ruolin will spearhead China's diving "Dream" team to the Rio Olympic Games.
The Chinese Olympic diving lineup is almost decided as the last Olympic trial ended here on Tuesday. It is just a matter of time before the roster is released.
Four-time Olympic champion Wu Minxia, spearheading the 13-member diving team, will compete in the 3m springboard synchro event with Shi Tingmao, while Chen, double Olympic champion, will pair up with Liu Huixia in the 10m platform synchro.
Olympic runner-up He Zi and World Cup winner Shi Tingmao will take part in the women's 3m springboard, while World Championships silver medalist Ren Xi and Si Yajie will compete in the 10m platform.
In the men's events, world champ Qiu Bo and Olympic rookie Chen Aisen will try to win the 10m platform gold, which has been missed in the previous two Olympic Games. Chen will also take part in the synchro event with veteran Lin Yue.
World champion He Chao, brother of Olympic champion He Chong, will make his Olympic debut in the 3m springboard with Cao Yuan, and the latter will also compete in the synchro springboard with veteran Qin Kai.
The "dream team" of China claimed six out of the eight gold medals on offer at the London Games four years ago. They won eight out of the 11 at last World Championships, and bagged six out of the eight at the World Cup this year.
Chinese diving team leader Zhou Jihong kept a low key towards the Rio Games.
"I am worried about all eight events," she said on Tuesday.
According to Zhou, the men's events are more difficult than the women's.
"It is always till the last dive that can we know the winner of the men's events," she said. "It is very hard. Our rivals are at high-level, very experienced and at the same time very young. We have no advantage in the men's events."
China also lost the women's 10m platform title at the Kazan worlds last year, and Zhou said the women's platform always has "dark horses".
"It is the only diving event that can see dark horse, as others need more experience and strength," she said.
According to Zhou, the diving team still need some procedures before they unveil the squad, but they will try to make it soon.
The diving team will go to Guangzhou in June to have outdoor training in order to prepare for the Games.