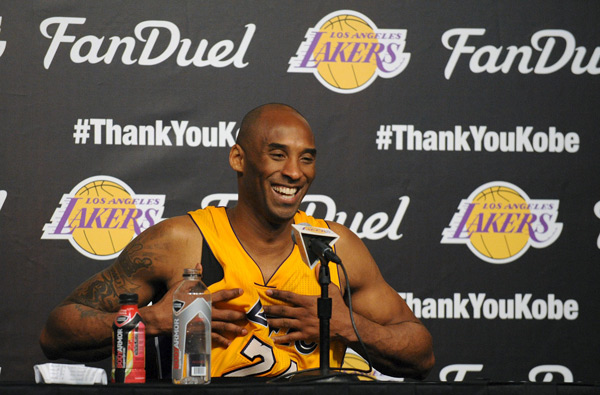 Los Angeles Lakers forward Kobe Bryant (24) speaks to media following the 101-96 victory against the Utah Jazz at Staples Center in Los Angeles, CA, US, April 13, 2016. [Photo/Agencies]
LOS ANGELES - It's time to say goodbye, to his teammates, to his rivals, and to his beloved fans.
For Kobe Bryant, 20-year NBA career finally closed its door. You cannot expect more from a 37-year-old veteran than 60 points in his final game, and more importantly, a win that he cherished the most as an innate winner.
"Man, I can't believe how fast 20 years went by, this is crazy," Bryant said to the crowd after the victory.
With five rings, two Finals MVPs, third all-time leading scorers, 18-time All-star appearances, Bryant retired from the world's elite league with his unchanged love for basketball. He finished with 60 points on 22 of 50 shooting as Lakers erased a 15-point deficit to beat the Utah Jazz 101-96 here on Wednesday.
On Nov. 29, 2015, Bryant announced that he would retire at the end of the 2015-16 season.
"My mind can handle the grind. But my body knows it's time to say goodbye." he released the news via a letter-poem on The Players' Tribune.
From then on, every road game that Bryant participated in was a Farewell Tour. Standing ovation, "Kobe" chant, is no strange in every place that he visited after the announcement.
Bryant began his NBA journey in 1996, when he was drafted by the Charlotte Hornets (current New Orleans Pelicans) with the No. 13 pick, before being traded to the Lakers for center Vlade Divac.
"I grew up a die-hard Laker fan. So to be drafted and traded here and spend 20 years here, you can't write something better than this," said Bryant.