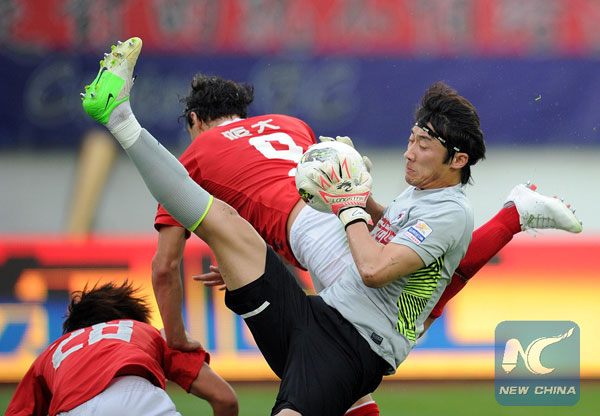 Liaoning goalkeeper Zhang Lu (front) catches the ball in a Chinese Super League match against eventual champions Guangzhou Evergrande on Oct. 27, 2012 in Guangzhou, Guangdong province.[Photo/Xinhua]
BEIJING -- Chinese soccer players' transfer fees have climbed up much faster than the national team did on the FIFA world rankings.
Twenty-two years after the Chinese soccer league turned professional, the transfer fees for Chinese domestic stars ballooned by over 100 times to match those of first class players in Europe and South America.
In the meantime, the national team stands 82nd in the latest FIFA world rankings and has an average position of 71st since the world rankings were established in 1993.
Less than two weeks ago, a domestic transfer record was set by second tier club Quanjian who bought Chinese Super League (CSL) club Liaoning's Zhang Lu with 70 million yuan (about 9.85 million euros).
The number was more than 100 times of that for top players back in 1995 when the Chinese soccer league was in its second year of professionalization. The most expensive player on that year's transfer market was international striker Li Bing who joined Guangdong from Liaoning on 640,000 yuan (about 90,000 euros).
Zhang's transfer fee beat former mark set in last year when Chinese international Sun Ke's move from top flight CSL side Jiangsu to Tianjin was put on a 66 million yuan price tag.
Although Zhang, a 29-year-old goalkeeper who could not secure the first-choice position in the national team, is lesser known, his price almost equals that of Germany defender Matthias Ginter when the youngster joined Bundesliga side Borussia Dortmund on a 10-million-euro deal in 2014.
Many were concerned that the transfer market was filled with bubbles.
"The Chinese national team has yet to stand on the top of Asia but the players are more expensive than some famous foreign players. Clearly their prices have gone far beyond their true values while bubbles and false prosperity prevail in Chinese soccer," commented News Morning, a newspaper based in Shanghai.
A large part of the media thought the "bubbles" stemmed from the combination of small number of quality players at home and foreign player quota.
"It is the reflection of supply and demand in Chinese soccer market. Due to the foreign player quota, clubs are forced to dig deep in domestic talent pool, which unfortunately is very limited in size," said City Evening News, a newspaper based in China's northeast province Jilin.