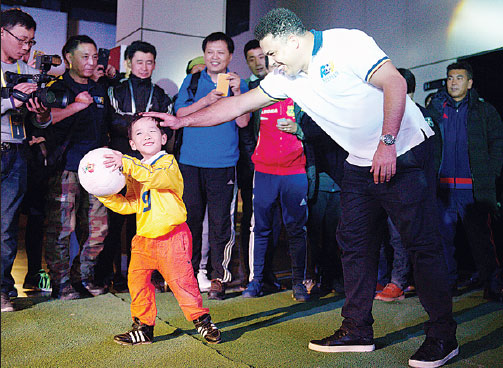 Ronaldo promotes his soccer academy business in Beijing. He has teamed up with a Brazilian entrepreneur to open Ronaldo Academies in Beijing, Shanghai and Mianyang, Sichuan province. Bruno Maestrini / China Daily
Four years have passed since Brazilian soccer legend Ronaldo decided to hang up his boots.
Nonetheless, the retired star - full name Ronaldo Luiz Nazario de Lima - continues to stir passions in China.
This was demonstrated by the warm welcome he received from fans during a tour of several cities in the country to promote his soccer academy business.
Ronaldo says he wants to help China in its efforts to unlock the sport's potential from the grassroots level.
He has combined with Brazilian entrepreneur Carlos Wizard Martins to open three Ronald Academies in Beijing, Shanghai and Mianyang in Sichuan province by the end of the year.
"We have brought the Ronaldo Academies here to help China in its dream to become a soccer powerhouse", Ronaldo said at a presentation event in Beijing. "We have just started the project, but in a few years we will be able to see good players here."
The arrival of the academies in China is one of the latest examples of the enthusiasm for soccer in the country, with parents regarding training for the sport as a new must-have extracurricular activity.
Qiu Yi, a physical education teacher who decided to enroll his son at a soccer academy in Beijing, said, "About 80 percent of the kids that are enrolled in soccer academies are there because of their parents, not because the youngsters actually choose to play soccer."
This year, China unveiled an ambitious soccer reform plan covering all aspects of the sport, including the transformation of professional clubs, professional leagues and the game at grassroots level.
Nurturing young talent - one of the key points of the plan - has been gaining ground rapidly with the creation of academies by international soccer clubs and former legends in the sport.
Parents are spending heavily to get their youngsters into foreign soccer academies.
emmagonzalez@chinadaily.com.cn