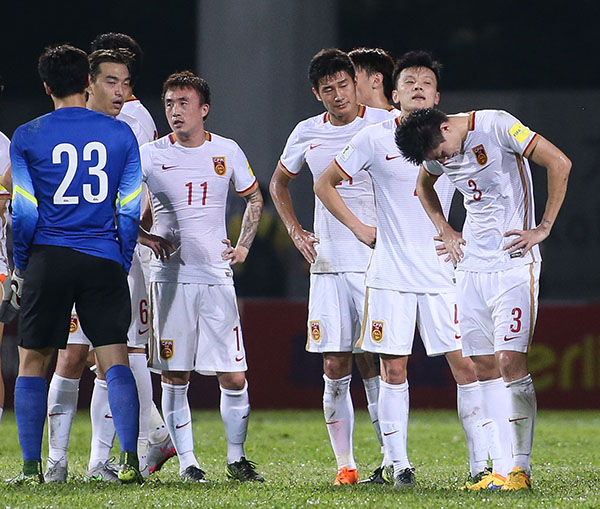 Chinese players react after the team drawing with Team Hong Kong in their World Cup qualifying soccer match in Hong Kong, November 17, 2015. [Photo by Wu Zhizhao/for chinadaily.com.cn]
Eight months after a plan was unveiled aiming to catapult China to a future World Cup title, the nation's high hopes ran aground again on Tuesday as Team China tied Team Hong Kong Special Administration Region in a scoreless qualifying match for the 2018 World Cup in Russia.
The tie left only a theoretical possibility that the Chinese team would qualify for Russia, depending on results of other teams in the pool stage.
If it misses the thin odds, it will be China's fourth failed World Cup qualifying campaign since its only qualification in 2002, a disappointment in light of President Xi Jinping's well-publicized wish, expressed in 2011, that China would reach the finals again and win.
The State Council approved a national program in March to reform the game's management and make domestic league operations more professional.
Fans and media blamed the reform's slow progress for Team China's disappointing performance on Tuesday.
The Chinese Football Association's website was hacked within hours after the match by an unidentified intruder who manipulated the main page into a letter of complaint. "It's a shame to end up with a tie against a regional team in this humiliating fashion.
The head coach should be fired and the head of CFA should be held accountable," the letter said.
Head coach Alain Perrin of France said he won't resign anytime soon. So far, no CFA officials made public comments.