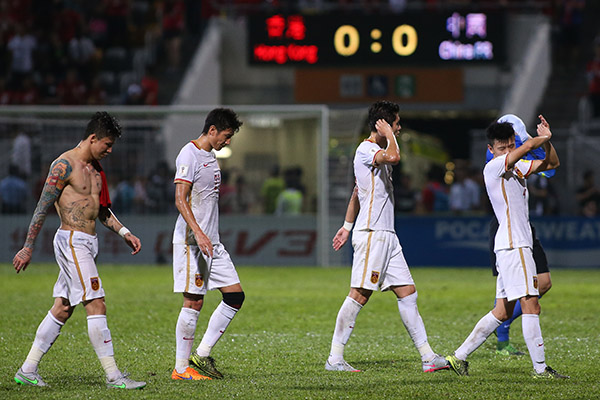 Chinese players leave the field after the team drawing with Team Hong Kong in their World Cup qualifying soccer match in Hong Kong, November 17, 2015. [Photo by Wu Zhizhao/for chinadaily.com.cn]
Soccer commentator Huang Jianxiang called for a reshuffle of China's administrative approach to development, saying the government's grip on the game should be relinquished and the domestic league should be operated free from bureaucratic interference.
As an affiliate of China's sports ministry, the General Administration of Sport, the CFA is mainly composed of government officials who make centralized decisions on almost every aspect of the game, including youth training, national programs and professional league operations.
The State Council urged delinking the association from the administration to make it a full-fledged NGO run by professionals.
"It's time to implement the reform in full swing so that the game will have a bright future at all levels," said Tan Jianxiang, a sports sociologist at South China Normal University.
Despite the setback on the national stage, the recent success of the privately owned top-league club Guangzhou Evergrande provides some comfort for Chinese fans. Evergrande will compete for a second AFC Champions League title this week after winning it in 2013.
The recent 8 billion yuan ($1.26 billion) purchase of the domestic league's TV rights by China Sports Media Co over the next five years also proved investors' long-term confidence in the game's resurgence.
sunxiaochen@chinadaily.com.cn