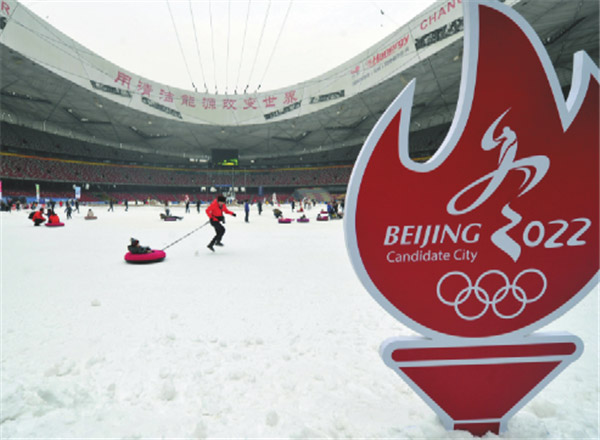 The National Stadium hosts a skiing event in January to promote knowledge of ice sports and the Winter Olympic Games. [Photo/Xinhua]
The Beijing 2022 Winter Olympic Games held an Orientation Seminar in Beijing on Nov 3, marking the beginning of preparations for the 2022 Winter Games.
Led by IOC Olympic Games Executive Director Christophe Dubi, a 12-member IOC delegation was in the capital city to conduct the seminar. This is the first IOC meeting with the 2022 team since July 31st when Beijing was selected to host the 2022 Winter Olympic and Paralympic Games. Beijing, with co-host Zhangjiakou in neighboring Hebei province, edged out Almaty, Kazakhstan 44-40 in the IOC vote on July 31 to win.
During the two-day seminar, the visiting group met their Chinese counterparts including Liu Peng, the minister of China's General Administration of Sport, Wang Anshun, the mayor of Beijing, and Zhang Qingwei, the governor of Hebei Province.
On the Chinese side, about 300 representatives from the General Administration of Sport, the Chinese Olympic Committee, China's winter sports associations, the Beijing Municipal Government and the Hebei Provincial Government attended the seminar.
The two sides will look at the preparatory work that Beijing 2022 has carried thus far. According to the host city's contract, Beijing has to establish the 2022 Olympic Winter Games Organizing Committee by next month.
During the seminar, delegates from the IOC and IPC will exchange views with the organizers on a number of topics, including the opportunities Beijing can gain by hosting the games, the key games deliverables, and some important areas of game management. The seminar is designed to allow the local organizers to get off to the best possible start on their seven-year journey leading to the Games.
The Chinese are excited to present the philosophy and vision behind the 2022 Olympic Winter Games. They are mapping out a plan to showcase its positive effect on the regional economy in northern China, and its role in accelerating the development of winter sports across the nation.
According to the Communications Department of Beijing 2022, the IOC delegation's visit will deepen Beijing's understanding of how to organize a successful Olympic Winter Games, and lay a good foundation for the Organizing Committee's work over the next seven years.
The Beijing 2022 Olympic Winter Games will be held in three Competition Zones, namely Beijing, Beijing's Yanqing County, and Zhangjiakou in Hebei Province. The Zones will be connected by high-speed railways allowing various clients to shuttle between the three destinations easily.