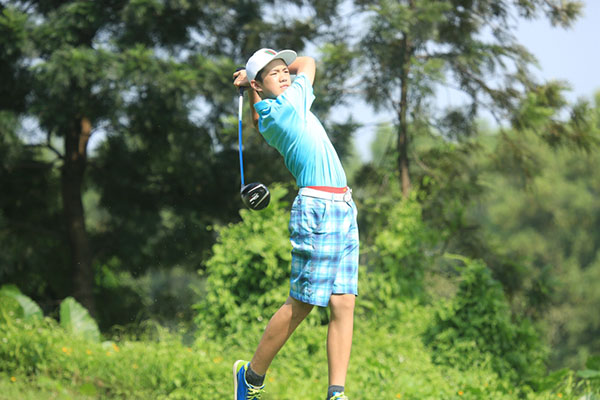 Wen Haoran, 12, won tickets to watch the return of golf to the Olympic Games. [Photo by Qiu Quanlin/chinadaily.com.cn]
A young player has become a golfathon champion after scoring 77 points in the final of a competition in Dongguan, Guangdong province.
Wen Haoran, 12, from Shenzhen, won two tickets to attend the final of the golf competition at next year's Olympic Games in Rio de Janeiro, Brazil, according to the event's organizers.
The unique summer-long golfathon was held across multiple courses belonging to Mission Hills, which has courses in Shenzhen, Dongguan and Haikou, capital of Hainan province.
The golfathon, one of the most-attended amateur tournaments across the world, attracted more than 50,000 players from 40 countries and regions, according to organizers. The final was staged on Friday at Mission Hills' Dongguan course.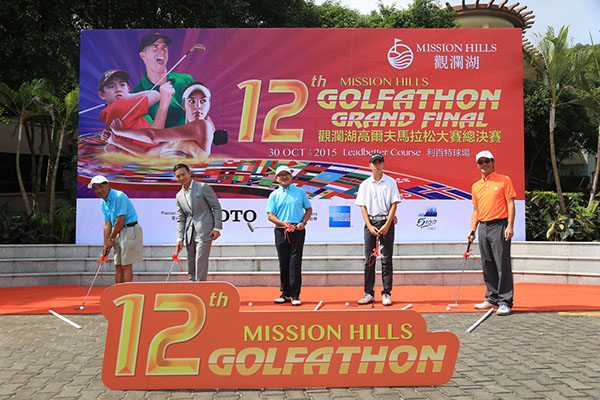 The 12th Mission Hills Golfathon Grand Final is held in Dongguan, Guangdong province, on Oct 30, 2015. [Photo by Qiu Quanlin/chinadaily.com.cn]
The sport, which includes categories for male and female players from juniors through to seniors, was first staged in 2004 to celebrate Mission Hills being officially accredited as the world's largest golf club by Guinness World Records.
"We hope more young players will have the chance to play at such a world-class course," said Tenniel Chu, vice-chairman of the Mission Hills Group.
Proceeds from this year's tournament will be donated to a fund supporting golfers who will represent China as the sport returns to the Olympics - for the first time since 1904, Chu said. 
"Mission Hills' support for the Olympic movement, in particular, golf's return to the Games is well documented," said Chu.
qiuquanlin@chinadaily.com.cn