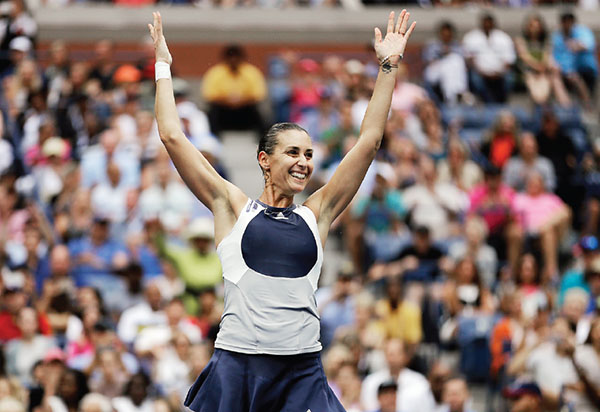 Flavia Pennetta of Italy tosses her racket after beating compatriot Roberta Vinci in the women's final of the US Open in New York on Saturday. DAVID GOLDMAN / AP
Pennetta, who is engaged to fellow Italian player Fabio Fognini, said she would play to the end of the season, including tournaments in Wuhan, Beijing and possibly the elite eight-woman WTA Finals in Singapore.
Adding to their collective joy, Fognini also had a magical moment at the Open, coming back from two sets down to eliminate 14-time Grand Slam winner Rafa Nadal in the third round with an inspired performance.
Having battled injuries on a regular basis in recent years, Pennetta said she made the decision to call time on her career at last month's Toronto event.
"Sometimes it's getting hard for me to compete," she said.
"When you are on the court, when you have to play 24 weeks in the year, you have to fight every week.
"And if you don't fight every week in the same way I did today, it's gonna be bad. I don't feel I have this power anymore sometimes.
"So this is the perfect moment, I think. It was a really hard decision to make, but I'm really happy that I did it. I'm really happy and proud of myself."