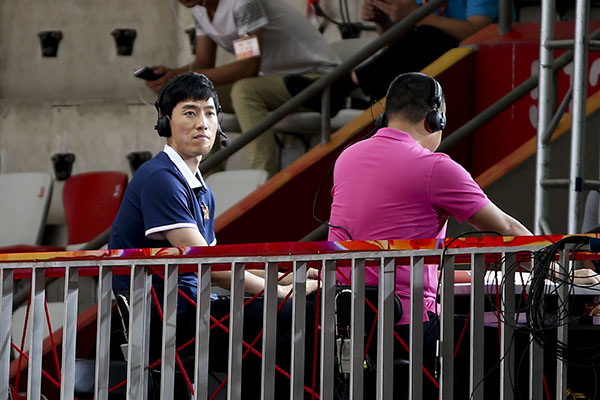 Liu Xiang, who is working as a television commentator during the world championships, has reaped lucrative endorsement deals thanks to his achievements in 110m hurdles. PROVIDED TO CHINA DAILY
Sterling performances from a new generation of Chinese athletes has seen their market value surge.
But they still have a way to go to fill the void left by Liu Xiang.
When Liu, the 110m hurdles gold medalist at the 2004 Athens Olympics, announced his retirement in April due to a heel injury, experts did not expect anyone to step up and fill his shoes anytime soon - much like two other Chinese sporting icons, basketballer Yao Ming and tennis star Li Na.
However, with history-making athletes like sprinter Su Bingtian and swimmer Ning Zetao emerging on the track and in the pool, a new wave of commercial stars in China's sports galaxy has arrived sooner than expected.
"Boasting a combination of athletic excellence, market-able looks and international exposure, Su and Ning have both shown great potential as targets for commercial endorsements," said Tan Jianxiang, a sports sociology professor at South China Normal University.
Su became the first Asian athlete to reach the men's 100m final at the world championships after clocking a national record-tying 9.99 seconds in the semis on Sunday.
That was close on the heels of Ning winning the men's 100m freestyle at the world aquatics championships on Aug 6 in Russia - also an Asian first.
Su's breakthrough resulted in the 25-year-old fielding interview requests at a Nike media conference.
According to the Chinese Athletics Association, 100m sprinter Zhang Peimeng, who narrowly missed making the finals of the 2013 worlds following an impressive 10sec result in the semis, has the most endorsements on the national track and field team. Zhang has at least three lucrative deals, including one with German automaker BMW.
Feng Shuyong, head coach of the national squad, said the sport's governing body welcomes sponsors, but only on the condition that commercial activities do not affect the athletes' training and competition routines.