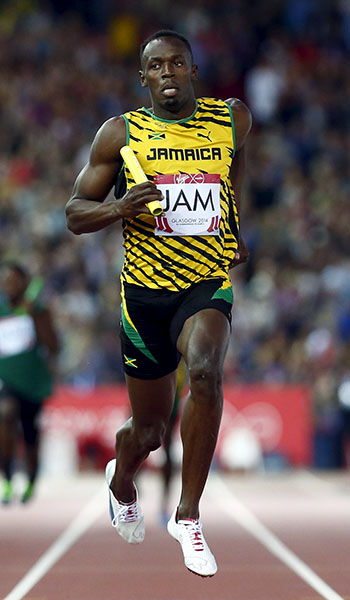 Usain Bolt crosses the finish line as Jamaica wins their first heat in the men's 4x100m relay at the 2014 Commonwealth Games in Glasgow, Scotland, in this August 1, 2014 file photo. Usain Bolt's clash with Justin Gatlin in the 100 metres was always going to be the highlight of this month's 15th world athletics championships but after the doping allegations that have rocked track and field it is starting to take on the look of a battle for the very soul of the sport. REUTERS/Andrew Winning
Double dose of Bolt vs Gatlin will showcase greatest rivalry in sprinting
After avoiding each other for what seemed like an eternity, the titans now must clash.
Usain Bolt, the laid-back Jamaican who just happens to be the fastest man ever clocked, against Justin Gatlin, the super-intense American who has blown away every foe he's faced in this track season.
Like a pair of gunslingers, they will battle over 100 and 200 meters at the Bird's Nest during these world championships.
Some sprinters - primarily Tyson Gay of the US and Bolt's compatriot, Asafa Powell - no doubt feel they have a shot at gold in those elite events, but the finals should be races of two.
Gatlin, who has been banned twice for doping and now is tested more than a mother's patience, has recorded this season's four fastest times in the 100 and the two quickest 200s.
Bolt, struggling with niggling injuries, has had a quiet 2015 but clocked two 9.87s in London last month to show he is warming to the task of defending his crowns here - the scene of his Olympic heroics in 2008.
On current form, Gatlin is the tip with runs of 9.74, two 9,75s and a 9.78 tucked under his belt this year in the blink-of-an-eye 100, and 19.57 and 19.68 in the half-lap race.
However Bolt, who owns the sprint records (9.58 and 19.19) and seems like the only person on the planet capable of breaking those ridiculous marks any time soon, can never be underestimated - especially in terms of heart and pride.
While the men's dashes look like a two-horse race, the women's sprint field is wide open.