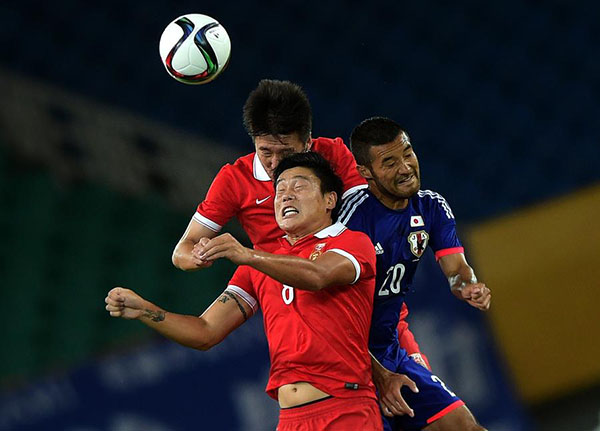 Chinese players fight for the ball with a Japanese player during their East Asian Cup game in Wuhan, China, Aug 9, 2015. [Photo/Xinhua]
WUHAN, China - China continued their 17-year winless run against Japan and placed second after a 1-1 draw in the East Asian Cup on Sunday.
The hosts ranked second after two matches, a victory over their arch-rivals would guarantee China the champion of this tournament.
China's head coach Alain Perrin said that he was a little disappointed at the draw result against Japan.
"It's a little disappointing, we had a good start and some good opportunities in the first half, so I am not satisfied with the final score we got, but I am pleased to see that my players showcased their fighting spirit," said Perrin.
Compared to the last match against DPR Korea, Perrin made eight changes in the starting line-up, with key player Zheng Zhi who played full 180 minutes in the first two matches being benched from the beginning of the match.
The French national arranged 3 different formations in the 3 matches of the four-nation tournament, saying "we have some players injured, so we made some adjustments, the World Cup qualifications are closing, the change will contribute to improving our ability."
After losing to South Korea in the first match, Perrin's team remained unbeaten in the last two matches.
Perrin said: "It's a regret that we lost the first match, but in the rest matches, we played well, and some substitutes embodied their morale, I am satisfied."