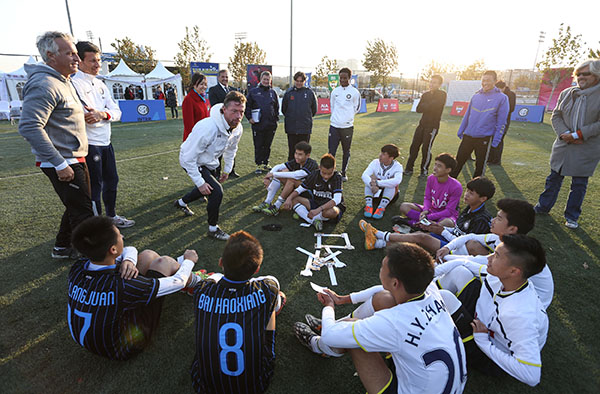 David Ginola and Steffen Freund give strategy for the game. Photo provided by Global Media Productions Limited
True People, Real Games with the Dream of Reaching their Excellence
The Premiere of this amazing reality show will air on Guangdong TV (GDTV) on Aug 6. "Football Dream Season Two" has continued to follow its motto of "Realizing Dreams" for the Chinese kids and has received critical acclaim for their Season 1 accomplishments. In addition to the consistent high production quality of the show, fresh interactive elements were also introduced together with the participation from a variety of well-known Chinese and Foreign football stars, which brought the show and the candidates to a new level.
Thanks to President Xi Jinping's passion for football, the interest for football in the country has been increasing rapidly. Riding on this wave, "Football Dream" got a high level of attention as soon as Season 1 aired. As people are used to watch football matches, "Football Dream" digs deeper into the football environment, showing behind the scenes activities and all the hard work football players endure to become a professional football player.
"We stick to our principles. These kids as well as their stories are unique. We don't need to write scripts to create stories and touch people, we do it with true life and hard-working participants."
"'Football Dream is truly a heart-warming reality show."In a current market where every show copies each other using celebrities and stars, the Executive Producer of the program was pleased with the idea of working with true people, telling their true stories. "We have no celebrities, stars nor professional actors, unlike other fake reality shows. We produced a show about real people to reflect the truth of their actions and feelings. We are sharing with the public the evolution of the kids, their ups and their downs, and the touching moments so that everybody can witness the extraordinary experiences of ordinary teenagers striving for their dreams and trying to achieve them." The Executive Director told us that "Football Dream" started several years ago and it is currently growing with several new and ongoing projects, giving it a promising future.