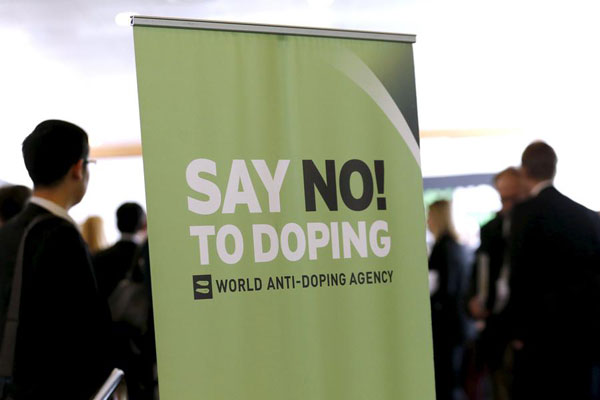 Participants talk before the start of the World Anti-Doping Agency (WADA) Symposium for Anti-Doping Organizations in Lausanne, in this March 24, 2015 file photo.[Photo/Agencies]
LONDON - The world governing body for athletics (IAAF) on Tuesday dismissed media reports of widespread doping in the sport.
The IAAF said the reports by Britain's Sunday Times newspaper and Germany's ARD/WDR broadcaster offered no new evidence that any athlete had failed a drugs test and wrongly implied that the governing body had failed to look into the results when they first came out.
"The IAAF takes the allegations published by The Sunday Times and ARD very seriously and has investigated them thoroughly," the IAAF said in a nine-page statement.
"The published allegations were sensationalist and confusing: the results referred to were not positive tests. In fact, ARD and The Sunday Times both admit that their evaluation of the data did not prove doping."
The statement included a background summary on how blood testing is carried out and specific responses to some of the accusations,
Tthe IAAF condemned the publication of what it said was private and confidential data obtained without their consent.
"There is no space for shortcuts, simplistic approaches or sensationalism when athletes' careers and reputations are at stake," said Professor Giuseppe d'Onofrio, described as one of the world's leading haematologists working as an expert in the field of the Athlete Biological Passport.
The sport of track and field, which has plagued by some spectacular doping cases over the past three decades, was thrown into crisis on Sunday after reports a whistleblower had released secret data indicating suspected widespread blood doping in athletics between 2001 and 2012.
The tests were analysed by two Australian scientists who later told Reuters that while more than 800 athletes had recorded one or more "abnormal" results, which is not proof of doping but still suspicious.
In addressing some of the accusations, the IAAF said the results were not secret and had been published by WADA (World Anti-Doping Agency) four years ago.
The IAAF also said it investigated all of the results and at least six athletes who were found to have cheated, were suspended.
A large proportion of these blood samples were collected before the implementation of the Athlete Biological Passport (ABP) and could not be used as proof of doping, the IAAF said.
"The IAAF quite rightly operates within an anti-doping framework, provided by WADA, where suspicion alone does not equal proof of doping.