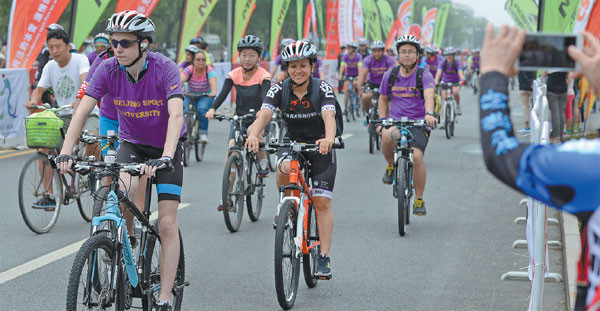 Cyclists from home and abroad participate in this year's Beijing International Cycle Expo in Yanqing county this month. Jia Deyong / For China Daily
A Beijing county is developing seasonal cycling routes. Yang Feiyue reports.
Forget four wheels. Tourists are switching gears to explore Beijing's scenic Yanqing county on two tires as authorities seize the handlebars to steer tourism toward cycling.
Roughly 80,000 cyclists have pedaled through Yanqing annually over the past three years. The peak season for cycling is from April to mid-October.
Part of the area's appeal is that it's nearly 75 percent afforested, making it the perfect spot for residents of Beijing's concrete jungle to escape to.
"Yanqing's routes run the gamut of cycling experiences," deputy head of the county's publicity department, Wang Lei, says.
The county has bike lanes in its urban parks, more challenging routes in the mountainous countryside and a cross-country lane certified by the Switzerland-based Union Cycliste Internationale, he adds.
The county has developed eight cycling zones and 11 routes since 2010 in its quest to become a national cycling hot spot. Yanqing hosts more than 300 kilometers of lanes and 35 bike-service stations, according to the county government.
Over 20 rental locations offer 2,000 bike models.
Resident Gu Jianfeng, who works in bike rental, says the Beijing Northwest Travel Agency, the company he started with four years ago and recently left, only had 30 bikes and 500 customers in 2011.
The number of customers nearly doubled in 2012 and soared to 15,000 by 2014. It currently rents out 500 bicycles, including professional mountain bikes, available for 50 yuan ($8.10) an hour or 120 yuan a day.
Sales have also soared. Over 8,000 bicycles were sold in the seven months of the year for a total sales value of 20 million yuan, the county government says.
Gu attributes cycling's growth to tourism authorities' concerted efforts.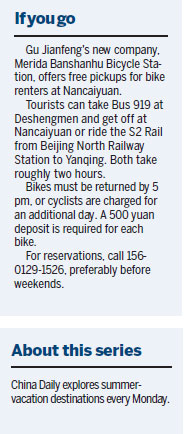 The Beijing International Cycle Expo and the Tour of Beijing race have drawn many tourists to Yanqing, he adds.
Baili Landscape Gallery
The county's northwestern Baili Landscape Gallery ranks among Beijing's top 10 bike tracks because of its well-paved, tree-lined paths, Wang says. The shade cast keeps cyclists from overheating along the 30-km route that takes about three hours to complete.
The track runs from the Gangou Service Center to Xiushui Bay and then past Changshou Ridge before passing the Silicified Wood National Geological Park and Dishui Lake. Part of the path follows dinosaur tracks.
Central route
The Guihe Ecological Corridor runs about 70 km across the middle of Yanqing. It circles the Guishui River near downtown.
The route connects the Wild Duck Lake National Wetland, Xiadu, Guishui and Binhe forest parks. Cyclists often stop off for rural specialties like Liugou village's tofu and Xiashuimo village's fried cakes.
Northern route
The Longqing Gorge route runs 50 km in the north of Yanqing. Cyclists can stay overnight in cabins in the Longwan International Camping Park, enjoy flora at Changliying village's Guizhou Peony Park and make pottery in Pengyao village.
Xianglonglu
Food and flowers fill the 26-km Xianglonglu lane - Xinzhuangbao offers apricots; Liubinbao produces Chinese dates; and Huahai Tianyuan's Ecological Garden serves black-pork dishes.
Gulonglu
The Gulonglu route runs 23 km to the boundary between Beijing and neighboring Hebei province. The Yudu Mountains remain relatively undiscovered among tourists. Cyclists often visit the Huihuang International Resort's golf course and wine estates.
Southern route
The 7-km Shixia lane passes the Badaling's Great Wall, National Forest Park and Wild Animal World. Lipao village's grapes and Shixia village's stone-pot dishes are local specialties.
Southeastern route
The Dazhuangke lane is a bit of a distance from downtown Yanqing but cyclists can see the Lotus Mountains, Great Wall ruins and the Wanglongtan Grand Canyon. Chinese chestnuts, walnuts and mushrooms are peddled along the pedaled roads. Cyclists can view glacial remnants.
Contact the writer at yangfeiyue@chinadaily.com.cn
Call 156-0129-1526. Reservations are preferred before weekends.