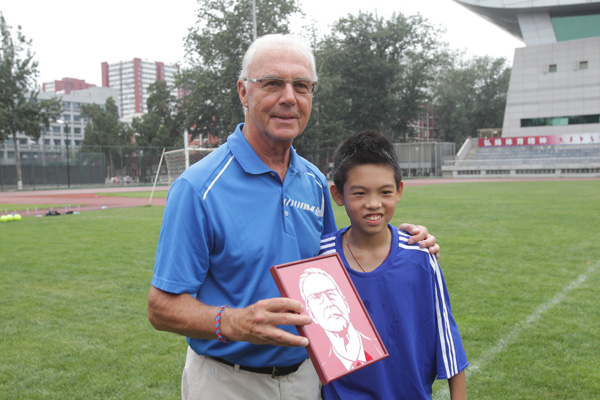 Franz Beckenbauer poses for photos with a young Chinese football player in Beijing July 15, 2015.

[Photo provided for chinadaily.com.cn]
Football Emperor Franz Beckenbauer arrived in Beijing at noon on July 15. Beckenbauer China tour started with understanding China's football, and then developed into communicated with representatives from sports, media and commercial sectors, aiming at understanding China sports development from full perspective. He hoped to bring "Camp Beckenbauer" to China to contribute to the development of China sports industry.
Beckenbauer pays great attention to youth football promotion. He believes youth football is the foundation of the sport, and youth education determines the future of sports industry. Hence, Beckenbauer chose youth football as a key to understand China sports industry chain. In the afternoon of July 15th, he went to the football fields of Renmin University of China, where he watched the training of 24 young players from the Beijing Dongcheng Football Elite Camp. He was accompanied by retired football star Xie Hui, who played for the German professional football club, Alemannia Aachen, and Mr. Marcus Höfl, who is the co-founder of "Camp Beckenbauer".
Beckenbauer listened to the introduction of the 24 young players and also watched their training. The players are then divided into 2 teams for demonstration game. Beckenbauer studied the game and provided helpful tips and suggestion to the coach besides him.