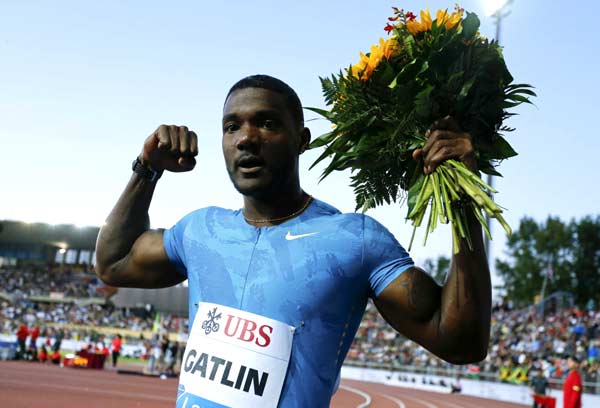 Justin Gatlin of the US celebrates after winning the 100 meters men event at the IAAF Diamond League Athletissima athletics meeting at the Pontaise Stadium in Lausanne, Switzerland, July 9, 2015. [Photo/Agencies]
LAUSANNE, Switzerland -- Justin Gatlin powered past Jamaican Asafa Powell and fellow American Tyson Gay in Lausanne on Thursday to remain unbeaten since 2013.
The 33-year-old veteran, the fastest man so far this season, clocked 9.75 seconds to win the men's 100 meters sprint, which is not a Diamond Race event here at the Athletissima.
Gatlin's time is just 0.01s off pace from the season's world leading result of himself, set in May at the IAAF elite races' opening event, the Doha Diamond League meeting.
Powell finished second in 9.92 seconds and Gay in third on the same time Thursday night at the ninth of the 14 stops Diamond League series.
"I've been wanting to go faster," said Gatlin, who has served two doping bans. "During the race I was in my zone and it felt really great."
With Jamaica's 100m world record holder Usain Bolt pulling out of a 200m in Lausanne as pre-caution to a leg injury, the 2004 Olympic champion restated his form as the August 22-30 world championships is just around the corner.
"It's not a message to anybody," said Gatlin. "Usain is a great opponent, so it's on me to go out and give him the best challenge I can. Hopefully he will be healthy and ready to go for the world championships."
He went on to comment on his arch-rivals at the 14,000-packed Stade de la Pontaise.
"I love this track! Last year I ran 9.79sec, this year there was more competition with Gay and Powell," commented Gatlin.
"It's always good to face the best. It's like a heavyweight boxing match. That's what I want to do.