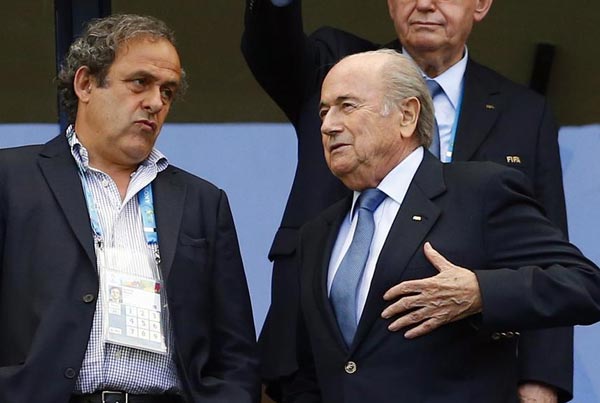 FIFA President Sepp Blatter speaks with UEFA President Michel Platini (L) before the 2014 World Cup Group G soccer match between Germany and Portugal at the Fonte Nova arena in Salvador, June 16, 2014. [Photo/Agencies]
VIENNA - Michel Platini was re-elected as UEFA president on Tuesday, and two critics of Sepp Blatter were chosen to join the FIFA executive committee.
In his acceptance speech, Platini pledged his love for FIFA despite supporting all three candidates against Blatter in the world governing body's own presidential election.
Platini ran unopposed to extend his reign, which started in 2007, and was voted in by acclamation by the leaders of UEFA's 54 member federations to serve four more years.
"This means more to me than you could possible imagine," Platini said in an acceptance speech in French.
Platini also retained his position as a FIFA vice-president through 2019.
The former France great will be joined on the FIFA executive committee by former Manchester United CEO David Gill and Germany football federation president Wolfgang Niersbach. Both previously said Blatter should leave FIFA this year.
Though Platini opted not to stand against Blatter in the FIFA election on May 29, UEFA backs all three other candidates.
"We love FIFA deeply," Platini said, watched by Blatter sitting at the front of the congress hall. "It is entirely because we love and respect FIFA that we want it to be perfect.
"We Europeans want a strong FIFA, a FIFA that is respectable and respected," Platini added, before taking an apparent jibe at his onetime mentor.
Platini said some people wanted to isolate UEFA as "arrogant and selfish."
"Certain people are perhaps trying to turn us against each other, seeking to divide and rule," Platini said in comments directed to other confederation leaders attending as UEFA guests. "Don't believe everything you hear. We know that we make mistakes and are not necessarily any better than anyone else."