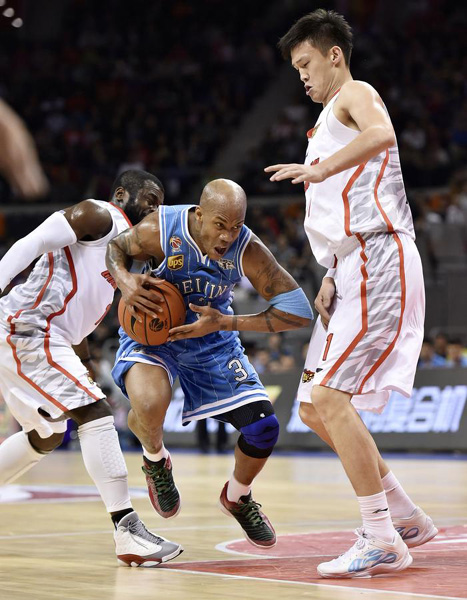 Beijing Shougang's Stephon Marbury, center, breaks through during the second round of the best-of-five series of Chinese Basketball Association (CBA) semifinal game against Guangdong Dongguan in Dongguan, Guangdong province, Feb 27, 2015. [Photo/Xinhua]
BEIJING -- "Ma Zhengwei" Stephon Marbury laid down another milestone in his blissful Chinese journey when he played his 200th Chinese league game for Beijing and won.
Tuesday's overtime home win sent Beijing into the top league's final against Liaoning. Marbury anchored in Beijing's two championships in 2012 and 2014 and will be well looked upon for a third one.
A lone wolf and trouble maker in the National Basketball Association, Marbury has turned into the head and spirit of a Chinese team.
His younger Chinese teammates jokingly gave the 38-year-old a typical Chinese military position - "Zhengwei" or political commissar, whose work includes education, discipline inspection and uniting officers and soldiers.
Marbury gives orders on court and offers advice and encouragement off court.
The former NBA All-Star has found peace and success in his adopted hometown and he says he is grateful
"Wow I can't believe it's been that many games that fast. It's been the best 200 games of my career," wrote Marbury on weibo, a Chinese equivalent to Twitter, after Tuesday's match where he dished out a game-tying three-pointer with 6.6 seconds remaining to force an overtime and scored nine of Beijing's 11 points in the additional time.